The survey: more Italians side with Israel than in the past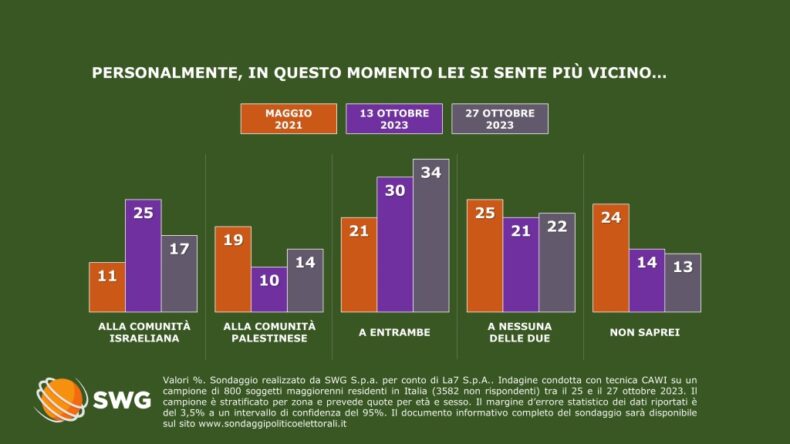 17% of Italians are "closer to the Israeli community", while 14% are "closer to the Palestinian community." 34% express closeness to "both", while 22% "to neither." 13% choose not to take a side. These figures, among others, come from the latest survey by the Italian SWG research institute, which for weeks has been monitoring the Italian public perception of the conflict between Israel and Hamas terrorists.
Empathy toward the Jewish state is down compared to an earlier survey, dated October 13, when the figure stood at 25%. Despite the significant "and, in many ways, inevitable decline in consensus after the military response to the Hamas attack," SWG research director Riccardo Grassi explains to Pagine Ebraiche, "it is nevertheless interesting to take note that public opinion is more in favor of Israel compared to the recent past."
The diagram above offers an example, titled "Personalmente, in questo momento lei si sente più vicino…" (Personally, right now you feel closer to…), referring to the May 2021 crisis that also led to military action in the Strip. "At the time, 11% of interviewees were in favor of the Israelis, compared with 19% who sided with the Palestinians. The events of October 7 have had a profound emotional impact, changing this balance," Grassi says. Another interesting fact "is the growth of attention to such issues: in 2021, 24% of people chose not to answer; today, however, it comes down to about half."
It is very difficult to make any predictions for the future. Much, in fact, "will depend on what happens in the field," Grassi states. Although a trend "can be guessed: as we have already seen with Ukraine, the more events are diluted in time, the more emotional detachment increases." A central theme in this regard will be "that of storytelling: it is a crisis, perhaps, that will be resolved through the ability to tell." In this regard, Grassi says he is "very impressed that none of the international media has questioned the circumstances of the Gaza hospital bombing as they were presented at first."
More figures concerning the survey released in the last few hours are important to note. 44% of Italians, SWG informs, consider Israel's reaction "too violent." In contrast, 21% agree with it, while 6% consider it "too mild" and 29% take no stand. For 38% of interviewees, Israel should aim to "make a deal with Hamas without attacking it militarily", while 22% think it should destroy it altogether and 19% think it should only aim to weaken it. 21% choose the option "I don't know."
39% of Italians, SWG reports, believe that Hamas and Israel are "equally guilty" of starting the conflict. 32% of interviewees explicitly accuse Hamas, while 9% lash out at the "Israelis." 5% deem neither side responsible. 15%, on the other hand, "don't know."
Another question concerns the appreciation of the position of some political leaders. The highest score, on a scale from 1 to 10, goes to Giorgia Meloni (4,2), followed by Antonio Guterres (4,1), Emmanuel Macron (4,0), Joe Biden (4,0), Ursula von der Leyen (3,9), Benjamin Netanyahu (3,5), Abu Mazen (3,4), Abdel Fattah Al Sisi (3,3), Recep Tayyip Erdogan (2,9), Xi Jinping (2,8) and the leader of Hamas Ismail Haniyeh (1,9).
Translated by Klara Mattiussi, revised by Annadora Zuanel, students at the Secondary School of Modern Languages for Interpreters and Translators of the University of Trieste, interns at the newspaper office of the Union of the Italian Jewish Communities – Pagine Ebraiche.