OBITUARIES Enzo Cavaglion (1919-2019)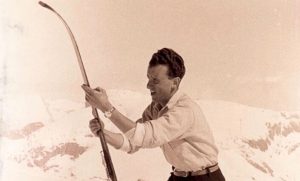 By Pagine Eraiche staff
Enzo Cavaglion, a hero of the Italian armed Resistance against the Nazis, passed away last week, only a few months before his 100th birthday. Cavaglion was the soul and custodian of the life and memories of the Jewish community of Cuneo, the Piedmont town he was from.
Cavaglion was born on June 19, 1921. From a very young age he was active in the anti-fascist movement. After September 8, 1943, he helped Jews who were fleeing deportation.
He and his brother Riccardo were among the twelve members of the group Resistant group Italia libera (Free Italy), that then became part of Giustizia e Libertà (Justice and Freedom).
He received the Gold Medal for Civil Valor from the President of the Italian Republic Carlo Azeglio Ciampi in 2001.
Cavaglion leaves behind his wife Pia Segre and a son, Alberto (his son, Davide, passed away in 2014).