FOOD For Shavuot, the Legendary Crostata di Ricotta e Visciole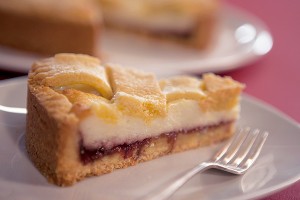 By Benedetta Guetta*
Eating a dairy meal on Shavuot is an enduring tradition for most of the Jewish people in the world.
As we all know, there's a number of reasons for this habit: some say it started when we received the Torah at Mount Sinai, when the meat was all of a sudden not kosher anymore and the only alternative to eating meat was to eat dairy; some other say that this tradition originates from a verse in the Song of Songs in which the Torah is likened to milk for its ability to sustain and nourish human beings.
Whatever the reason for this custom, Italian Jews made the most of it by inventing a cheese cake that is widely appreciated even by Gentiles to this day: the legendary Roman tart filled with sheep ricotta cheese and sour cherry jam that goes by the name of "crostata di ricotta e visciole".
For the short crust pastry
400 g cake flour
200 g white sugar
200 g butter, at room temperature
4 egg yolks
lemon zest (to taste)
For the filling
400 g ricotta cheese
120 g white sugar
1 egg
2 tbsp sambuca or similar liqueur
1 jar of sour cherry jam
Make a fountain of flour and then push out a well in the centre. Put butter, eggs, lemon zest and sugar into the hole and cream them together with a fork, mashing them until they come together. Then gradually draw the flour into the creamed mixture and mix it together, first with the fork, then with your hands until you have a ball of pastry dough.
Cover the pastry in cling film and leave it to rest for an hour in the fridge before you use it. You can also put it in the freezer for 15 minutes to speed things up. If the pastry isn't cold enough, it breaks up when you try to roll it.
Line a round cake tin with parchment paper. Meantime, roll out the dough in a thin round layer for the bottom of the cake, saving some of the pastry to cover the top.
Gently press the dough into the prepared pan and spread a nice layer of jam on top.
In a small bowl, mix together all the ingredients for the filling and place the cheese mixture on top of the jam layer.
Decorate the cake with large stripes of pastry dough, and cook in preheated oven (360 F)
for approx. 1hr.
Once it is nicely cooked and golden in colour, let the cake go back to room temperature and keep it in the fridge until you're ready to serve.
*Benedetta Guetta runs the blog Labna.it