FEATURES Jerusalem, a Permanent Home for Italian Culture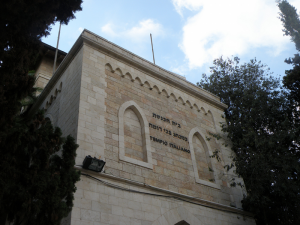 The Italian Jewish Community of Jerusalem gathered last week for a very special celebration.
The historic building of Rehov Hillel 25, home of the Italian Synagogue and of the Museum of the Italian Jewish Art, has been permanently acquired by the Hevrat Yehudei Italia, the association of Italian-Israelis.
Both the Israeli Prime Minister Benjamin Netanyhu and the Chief Rabbi David Lau sent a message of congratulations, acknowledging the important role of the Italian Community in the Israeli cultural landscape.
Among the ones who joined the celebration co-hosted by the Hevrah and the Jerusalem Foundation, the Italian ambassador Francesco Maria Talò, and the Chief Rabbi of Rome Riccardo Di Segni.
"It was a moving and exciting ceremony – commented Angelo Piattelli, who has been the president of the Hevrah for the past six months – We all wanted to thank the donors for their generous effort".