CULTURE Women Artists of the 1900 between Jewish Vision and Identity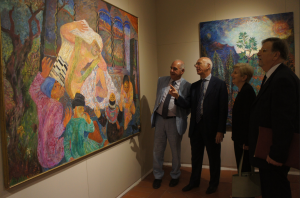 By Daniela Gross
Maybe the most known is Antonietta Raphaël, the rabbi's daughter, sensual and unconventional painter and sculptor, which left her native Kovno (Lithuania), spent some years in London and Paris and finally got to Rome. Here, with her husband Mario Mafai, she was among the founders of the "Scuola romana/Roman school", an art movement related to the Expressionism and influential in the decades before the War World II. But if you love figurative arts, maybe you know also Paola Levi Montalcini, twin sister of Rita, the scientist Nobel Prize, abstract painter appreciated even by Giorgio De Chirico.
Now, the works of Antonietta Raphaël and Paola Levi Montalcini, are displayed in an important exhibit at National Gallery of Modern Art in Rome along with the pictures of Eva Fischer, Silvana Weiller, Gabriella Oreffice, Paola Consolo, Adriana Pincherle, Annie and Liliah Nathan, the latter the daughters of Ernesto, mayor of Rome in the early '900s. The exhibit, entitled "Women artists of the 1900 between Jewish vision and identity" and curated by Federica Pirani, Marina Bakos and Olga Melasecchi, presents 150 works of Italian Jewish artists, some of them never displayed before, that enlarge the knowledge of the Italian Jewry and in particular of the female world in it.
Thanks to this initiative – promoted by Fondazione per i Beni Culturali Ebraici in Italia (Foundation for Jewish Cultural Assets), Roma Capitale, Superintendence of Rome to Cultural Assets and Jewish Museum of Rome – resounds anew the original voice of those artists, emarginated on the cultural scene for being both Jewish and women, but able to transform their condition in artistic freedom and creativity. Many of these women dedicated themselves to art and culture with passion e professionalism. "The female engagement in the lively debate of those years – said the curator Marina Bakos – was notable, more so than is commonly accepted, and many were the artists who knew to integrate in the principal artistic currents that were emerging given the sensibility of the contents and the originality of the forms".
The exhibit, through 10/10, is accompanied by a calendar of presentations to illustrate the role and the characteristics of these women so emancipated and avant-garde.