CULTURE Fundamental Israel, at the Biennale Architettura in Venice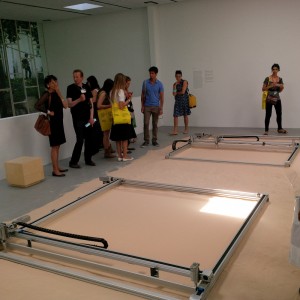 By Simone Somekh*
Israel has recently presented its own national pavilion at the 14th International Architecture Exhibition of Venice, which is named Fundamentals and will be open to the public until November 23, 2014. The exhibition, commonly known as the Venice Biennale of Architecture, is managed by Rem Koolhaas, hosts pavilions of 65 participating countries, and is taking place in several historic venues around the charming, northeastern Italian city.
It is the first time in the history of the Biennale that the national pavilions are invited to stick to a single theme, the title chosen is Absorbing Modernity 1914-2014 and aims at marking a century of globalized and technologically advanced architecture. Keren Yeala Golan and Roy Brand, two of the four curators, presented Israel's installation, which displays four automatic machines that draw the history of Israeli architectural growth on a layer of sand imported from the Negev desert in southern Israel.
"The Negev desert is one of the most ancient places on earth. There is something ancient in the material, but the construction, which is automatic, is very modernist" explained the curators of the installation, entitled "The Urburb", a neologism mixing the concepts of "urban" and "suburban", indicating a hybrid, architectural formation that is becoming quite common in Israel. "The feeling for the visitor is to come into a fantastic, modernist factory" continued the curators, who decided to bring life to a legend according to which the land of Israel was built on the sand – in other words, starting from nothing. What is peculiar and exemplifying of the exhibition is that, once the history of Israeli architecture is drawn on the sand, the machines erase it and start all over again: it is no mystery, in fact, that Israel loves to reinvent itself.
For more information about the Venice Biennale of Architecture visit the following link: http://www.labiennale.org/en/architecture/
*Simone Somekh is a student at Bar-Ilan University, Israel, and writes as a freelancer for the Jewish Italian press