FEATURES Looking at the World, through Eva's Eyes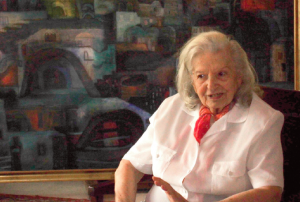 By Simone Somekh
The first impression that one gets after admiring one of Eva Fischer's paintings is that she sees the world through a filter that makes everything seem more vivid. She might be looking at the same landscape that is laying in front of our eyes, but she sees it from a significantly different perspective.
Eva Fischer was born in a Jewish family in Daruvar, in the former Yugoslavia, in 1920. Since the moment she was born, she has considered painting as her greatest passion and she has never stopped following her dream. As she recalls, she was remarkably young when she received her degree at the École nationale des Beaux Arts in Lyon, France, and she moved back to Belgrade just in time to see the city being bombed by the Nazis in 1941. The traumatic experience of World War II left a permanent mark on Eva, making of the Shoah a recurring theme in her art: in fact, she lost more than 30 relatives in the Nazi camps, including her father, Chief Rabbi of Daruvar and renowned Talmudist. During the war, Eva herself was interned in a concentration camp under the control of the Italians.
Today Eva Fischer is considered to be one of the most important Italian Jewish female artists of the 20th century. In 2008, she was conferred the acknowledgment of Cavaliere al merito della Repubblica by the Italian President Giorgio Napolitano. And this summer she is one of the protagonists of an exposition held at the Gallery of Modern Art in Rome, entitled "Female Artists of the 900s between Jewish Vision and Identity".
Through a dynamic, constantly evolving art, inspired by the many cities in which she lived (among which there are Madrid, London, and Rome, which she defines her "drug-city"), Fischer has proven to be a versatile painter, ranging from expressive close-ups to Mediterranean landscapes. Her paintings are symphonies of polychromatic slots. Interlacements of blurred lines. They display lonely objects, still lives, and thoughtful people.
Eva's recurring themes are bicycles – "During the Fascist dictatorship, I used to hang Anti-Fascist posters on the walls while riding my bicycle" – music – for a period of time she was Ennio Morricones' neighbor – dancers – following the tradition of Degas – and, of course, the Holocaust: "I've never thought of leaving the theme of the Shoah".
Behind the paintings, that were praised by Marc Chagall and Moshe Dayan, there is an intense life story of a cosmopolitan Jewish woman, who has managed to make people fall in love with her art, as well as with her personality, wherever she would go. For every place she visited, she recalls meetings, friendships and moments of exchange.
While looking at her paintings, the audience is strongly tempted to extrapolate one of those bicycles from the canvas and ride it around all the beautiful places where Eva Fischer has left a mark.