FOOD For a Roman Shabbat, the Simmering Stracotto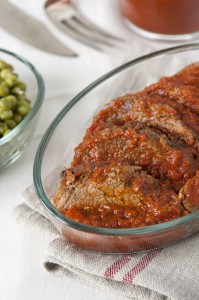 By Benedetta Guetta*
Stracotto, a simple pot roast in tomato sauce, is a traditional Jewish food from the Ghetto of Rome. Forget the meals-in-minutes approach to cooking: this beef roast will stay simmering in the pot for hours, just until all the family is gathered around the table for Shabbat dinner.
Despite the long cooking required, pot roast is extremely easy to prepare because it needs little tending while it cooks, and it produces satisfying food for a crowd or for several meals, often both, out of relatively inexpensive cuts of meat.
The slow cooking method results in butter-tender meat and plenty of rich, winey tomato sauce, that is usually served over pasta the next day, when all the roast is gone.
Serves 4
1 big onion, finely sliced or chopped
1 kg brisket or shin or thick flank or chuck
2 bottles (about 1500 g) tomato sauce
1 glass red wine
extra virgin olive oil
salt and pepper
Season the beef with salt and keep aside.
In a large casserole heat 2 tablespoons of olive oil over medium high heat until hot but not smoking, then brown the beef on all sides, about 15 minutes total. Transfer the beef to a plate and brown the onions in the same casserole you previously used for the meat, until they are golden.
Stir in the tomato sauce, add a glass of red wine and a glass of water, gently place the beef back in the casserole and let simmer.
The meat should cook at a gentle simmer for about 3 hours: add water if the sauce is looking too thick, and turn the roast every 30 minutes or so.
Feel free to speed up the process by using a pressure cooker: it's fine as long as you add enough water to keep the meat covered at all times.
Once the beef is really tender, season with salt and pepper to taste.
Slice the roast and serve it warm, saving some of the leftover tomato sauce to go with pasta the next day.
*Benedetta Guetta runs the blog Labna.it