FEATURES Taglit, the Experience Goes On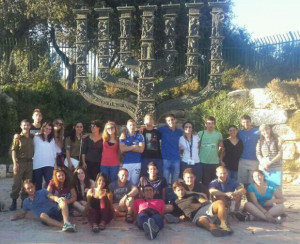 By Rossella Tercatin
"If the trip goes on like this, nobody will be willing to go back home!".
The comment made by Noemi Ascarelli and Diletta Camerini is pretty common among people who are attending Taglit-Birthright Israel, an educational trip which offers young adults (aged 18-26) from all over the world the opportunity to visit Israel and confront their Jewish identity ("`Taglit" means discovery in Hebrew).
The girls' words are even more remarkable in the fact that their Taglit is happening during one of the most difficult crisis Israel has had to face in the past few years.
But Birthright trips are still going on: some people have decided not to go, but not a single group was canceled. In the same way life in Israel goes on, perhaps not as usual, but with the willingness of not letting the terrorist attacks win.
"So far, our schedule has not changed. We are visiting Galilee, Haifa, Tzfat, Jerusalem, Masada… – says Valeria Milano, the madrichah (counselor) of the group – However we are also paying extra-attention to security issues, for example we find where the shelter is in every hotel we go to even though we have never heard a warning siren. As well, every night during our group activity, we share the day's news and discuss it all together. Aside from that the atmosphere is extremely positive; everyone is enjoying the trip".
The Italian group spent the Sabbath in the moshav Neve Ilan, west of Jerusalem, where they were joined by a group of IDF soldiers of Italian origin, an experience which created "a very powerful bond between them," underlines Valeria.
"Thanks to the organization, to our madrichim, and to the special atmosphere, the feeling is identical to a trip among friends" says Jonathan Limentani, who especially appreciated the visit to Haifa and to the Bahá'í Gardens, while Gianmarco Segrè was deeply impressed with the mystical Tzfat and Leo Fiorentino by Mount Herzl.
Another few days and the participants of Italian Taglit will fly back home.
All of them a little bit more aware of Israel's complex and beautiful reality.