ANNIVERSARIES World War I and Italian Jews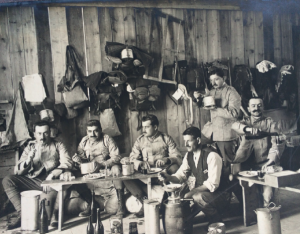 By Rossella Tercatin
Summer 2014 has marked the centennial of the outbreak of the First World War. This anniversary has been celebrated all over the world with multiple events, but also with cultural initiatives and reflections on the role of the conflict in shaping the history of the twentieth century.
Italy entered the war shortly after the outbreak, in May 1915, and most of the initiatives in Italy will therefore take place in spring 2015. Among them will be a major exhibition on the Italian Jewish world during the First World War, organized by the Fondazione Centro di documentazione ebraica contemporanea (Center of Jewish Contemporary Documentation Foundation, or CDEC) based in Milan.
The exhibition will not focus only on the Jews who fought in the war, but is intended to portray all the aspects of Jewish life between 1910 and 1920, as Paola Mortara, director of CDEC's photographic archive, explained to Pagine Ebraiche.
"As it happened in many other countries, World War I represented an essential moment for the Italian Jewish Community underlined Mortara. Just a few decades after Italian reunification, Italian Jews were deeply integrated in all sectors of society. At the same time, those were the years when Zionism was gaining popularity. After the war broke out in the rest of Europe Italy had remained neutral, as all Italian citizens as well as the Jews were divided between pacifists and interventionists. The issues relating to the conflict were hotly debated in both Jewish and non-Jewish publications, together with topics related to Zionism."
The CDEC has launched an appeal to anyone who is in possession of relevant materials, such as pictures or documents which could be lent to the exhibition. "So far we have received many interesting contributions especially relating to the war. They clearly show how Jews were deeply attached to their country and willing to fight for it." adds Mortara.
"This feeling, the pride of being Italian citizens like everyone else after centuries of persecution and of valiantly fighting in the army made even more unbelievable and unbearable the promulgation of racial legislation only 25 years later in 1938."
The CDEC exhibition will also feature a section on the role of Jewish women during the war. Women such as Sisa Carmi Belimbau (1849‐1947), who organized the production of military uniforms in Pisa and was decorated both by her city and by the Red Cross, or Paola Lombroso Carrara (1871‐1954), the daughter of the famous Italian criminologist Cesare Lombroso: a prominent journalist. She also founded an association to assist disadvantaged children which took care of thousands of children of soldiers.
"We hope we will offer an original and valuable contribution to the celebration of this centennial" concludes Paola Mortara.