ANNIVERSARIES Remembering Sant'Anna di Stazzema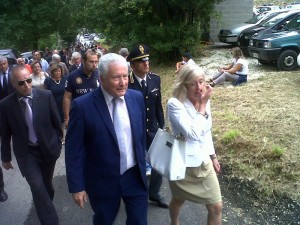 By Daniela Gross
Seventy years ago, on August 12th 1944, in Sant'Anna di Stazzema (an Italian village located in the northern part of Tuscany), 560 civilians, mostly women, children and elders, were killed by the Nazis.
In an operation intended to break all ties between the population and the Italian Resistance movement, the soldiers surrounded the village, locked up hundreds of people in barns and stables and systematically executed them. The youngest victim was only 20 days old.
To remember that atrocious crime against humanity 70 years later, a solemn ceremony commemorated the victims of that massacre at the presence of the Minister of Education, University and Research Stefania Giannini and of the president of the Union of Italian Jewish Communities Renzo Gattegna. This latter being a highly symbolic presence of the common commitment to preserve a conscious and shared Memory of the past, underlined the Minister. "Preserving Memory – said the minister – is the way to maintain the identity of a people. It is a value that needs the engagement of everyone of us."
Among eyewitnesses of the massacre of Sant'Anna di Stazzema, there was also a young Jewish partisan, Elio Toaff, future Chief Rabbi of Rome, then 29 years old.
"He is a paradigmatic figure within Italian Jewry. Like many Italian Jews, in those terrible days he chose to fight defending freedom, among the ranks of the Resistance movement", said president Renzo Gattegna.
"This is chapter of history still not well known but extraordinarily meaningful. Over a thousand people, in the small Italian Jewish reality already affected by racial laws and violent persecutions, answered the call of the Partisan struggle. It was a fundamental contribution, which was evident in many circumstances. Partisans were, among others, Enzo and Emilio Sereni, Vittorio Foa, Carlo Levi, Primo Levi, Umberto Terracini, Leo Valiani. Also the youngest victim in the Resistance movement, Franco Cesana from Mantua, was Jewish".