SPORTS Remembering Another Roma-Fiorentina, 68 Years Ago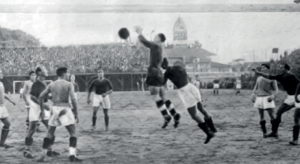 By Adam Smulevich
A match not like any other. For Rabbi Vittorio Della Rocca, known in the Jewish Community as "il Morè" (the teacher), Roma-Fiorentina, the opening match of the Series A soccer season 2014-2015, was much more than a challenge between two teams disputing the top place in the Italian soccer league. Back in 1946, the then 13 year old Vittorio received an unexpected gift for his Bar Mitzvah: a ticket to attend the match of his beloved team A.S Roma in Florence.
This gift meant many things: it was the first time he ever attended an away game of the "giallorossi", but more than anything, it was a rare occasion of joy in a childhood filled with persecution, the Shoah and the loss, among others, of his father and other family members.
"It was a great match ending in a tie score (3-3). I still remembered it well!", Rabbi Della Rocca says.
That day, so full of emotion, gave "il Morè" a new impulse to his passion for soccer. A passion which was already growing when, just a boy and despite anti-Jewish Laws, he sneaked into the stadium and rejoiced for Rome which won its' first title in the 1941-42 season.
Now is the time for new dreams. And maybe a new title, 13 years after the last one won by Fabio Capello as coach and Francesco Totti, Gabriel Batistuta and Vincenzo Montella (curiously now Fiorentina's manager) on the field. Il "Pupone", 38 years old in a few weeks, is still the captain of Roma. His charisma and his amazing talent remains unchanged. "Francesco is our symbol, I'm very confident for this season", rav Della Rocca says.
A younger Vittorio was also a football player with Stella Azzurra, a Jewish Roman team which was quite active in the past. The captain of that team was the future Series A defender Giovanni Di Veroli (five seasons with Lazio, historical rival of Roma). Even during rabbinical studies, every time he had a break, "il Morè" joined his friends in Piazza de'Cenci – a square located in the heart of the old Jewish Ghetto – and played for hours.
"Soccer is magic – rav Della Rocca concludes – Soccer can give you incomparable emotions. I'll always remember how I felt when I saw the Hungarian legend Ferenc Puskas in Stadio Olimpico. These unforgettable moments I will keep for the rest of my life".