OUT OF THE BOOT Diana, Researching on Medieval Philosophy in Germany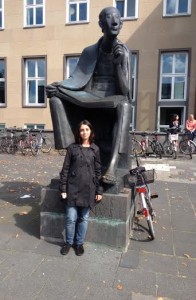 By Simone Somekh*
Later today Diana will be joining 200 experts in medieval philosophy for an international convention at the University of Cologne. Before heading to the lectures, Diana Di Segni, 30, discusses her new life in Germany, and although it has been very tough to find a time for the interview due to her busy schedule, she seems relaxed and eager to share her experience.
"The lecture is going to be in German, of course," says Diana, who attained a Phd in medieval philosophy.
When she moved from Rome to Cologne four years ago, she did not speak a single word of German, yet today she gives lectures and writes essays almost like a native speaker. "When I first arrived here, I attended an intensive German course. It's such a difficult language, I'll never reach perfection".
Reaching perfection seems to be quite a recurrent expression in Diana's life. She was born and raised in Rome, she gained her Master's degree in Paris, France, and then started her doctorate in Lecce, Italy; but when she was offered to continue her studies in Cologne she eagerly accepted.
"I'll be honest…" says Diana. "In the beginning I was not so enthusiastic about moving here. I had always thought of Germany in negative terms. Growing up it has been a taboo topic at home – my parents would not buy German appliances and cars."
Many Italian families, in fact, lost relatives in the Nazi concentration camps, therefore Italian Jewry today still finds hard to see Germany in a new light.
Despite her doubts, as soon as she moved to Germany, Diana realized that the people were extremely friendly and willing to help. "I feel like I live in a fair society," she explains. " I have friends in Italy who work and don't get a salary. Here all sorts of jobs are fairly paid – even serving coffee during conferences or copy and editing essays." Moreover, she believes immigrants are well integrated into the German society, and given fair benefits and social services, if compared to Italy.
Following her doctorate, she was offered a research job at the University of Cologne, which she happily accepted. She was then able to continue her research on the perception of Maimonides's work in the Latin world. To do so she works with manuscripts from the 12th and 13th century, translating and interpreting these historical documents.
Diana regularly attends services and lectures at the local Jewish community.
"There's a very big synagogue in Cologne. From the outside, it gives the wrong impression that there is a large community, as well." When she walked into the synagogue on her first Shabbat in Cologne, Diana was unexpectedly greeted in Russian. "Everyone spoke Russian, everyone is Russian, and everything is Russian," she explains. However, the Roman voyager continued to attend the services and the lectures, integrating herself into the community. Diana is very fond of Rabbi Engelmayer, Chief Rabbi of Cologne, who leads numerous projects, involving all age groups in the community.
Although she loves her life in Cologne, Diana often misses Italy, especially its delicious food and distinctive warm-hearted people. During her stay she has noticed the Germans are very precise and rigid not only with their work, but with their leisure as well: "At 5 p.m., no matter what they are doing, everyone stops and goes for a beer."
Outside is cloudy – one of Cologne's aspects she dislikes the most – and Diana has to leave for the convention. Before ending the interview she confesses that after a few more years of research in Germany, she plans on returning to Italy. Yet she will open a new chapter of her life enriched by the stimulating experiences she'd had abroad.
*Simone Somekh is a student at Bar-Ilan University, Israel, and writes as a freelancer for the Jewish Italian press. Shirly Piperno, fashion styling and communication student at Istituto Marangoni, London, contributed reporting.
In the picture: Diana Di Segni next to the statue of philosopher Alberto Magno, after whom the University of Cologne is named.