EVENTS Milan, Capital of Jewish Welfare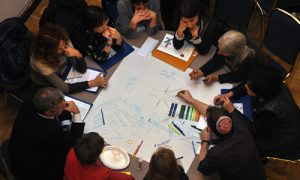 By Rossella Tercatin
Jewish leaders from all over Europe are expected to gather in Milan for the fifth Meeting of Presidents of Jewish Organizations, which will take place from November 21st to November 23rd. The event organized by the European Council of Jewish Communities (ECJC) together with the American Joint Distribution Committee (JDC) as well as the collaboration of the Union of Italian Jewish Communities with the Jewish Community of Milan, will focus on sharing experiences and the best methods in fields such as Jewish education, welfare, and the fight against anti-Semitism.
"We live in a reality of new ideas, multiple identities and different ways of connecting to Judaism", explains Simone Mortara, ECJC board member, who also sits on the Council of the Milan Jewish Community. As new generations of European Jews move around, go abroad to study or work today's Jewish community has become for something more than a physical place: a dimension of virtual connections, where it is not only where someone was born that matters." Mortara underlines the importance of sharing ideas and experiences from different countries and communities. "We should never forget that we are facing the same issues all over the continent, from the Jewish community shrinking and aging for demographic reasons to the economic crisis. Being exposed to the ways other organizations deal with these problems is always useful".
The ECJC, an umbrella group that unites Jewish organizations from 42 countries, periodically organizes conferences and forums on specific issues: for example on November 9-11, a seminar for Jewish school principals will be held in London.
The Presidents Meeting in Milan will be also an occasion to present a survey on Jewish migration. The study done by ECJC and JDC International Center for Community Development, is focused on needs and expectations of young people leaving from their country of origin, especially in terms of what Jewish Communities they would want to discover.
"The meeting of Presidents aims once again to bring together European Jewish Leadership, offering a safe space for discussion of the common challenges which our communities are faced with" reads a statement from ECJC president Benjamin Albalas, "We will be offering a weekend of challenge and opportunity; networking and socialising; debates on key leadership issues, awareness building of European initiatives and the chance to share and define our communities' priorities in these difficult times".