FOOD The Ark of Taste Docks in Turin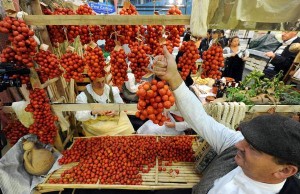 By Ada Treves
The tenth edition of Salone del Gusto-Terra Madre, the five days event that transforms Turin in the capital of the food world will close today. With the Expo 2015 only six months away, in the year that the United Nations declared "International Year of Family Farming", Slow Food, Regione Piemonte and the City of Turin – the organizers of the event – decided to devote it to the Ark of Taste and to Family Farming, and they can already declare it to have been a huge success.
The 80 thousand square meters of the Salone del Gusto have been literally invaded by a huge quantity of people and a thousand two hundreds exhibitors coming from a hundred different countries have given life not only to five days when it was possible to taste all sort of different products, but also to spaces full of events, lessons, lectures, food stalls and where fantastic perfumes fill the air.
Terra Madre, that brings together those players in the food chain who together support sustainable agriculture fishing and breeding with the goal of preserving taste and biodiversity, is becoming more and more central to the event. Family farming, that has long languished in the cultural waiting room, is not something of little importance: when the Green Revolution arrived a few decades ago, bringing with it an agricultural model based on monocultures, synthetic chemicals and mechanization, it began to be thought of as something incapable of meeting the demographic needs of the contemporary world, with a constantly growing population and an arable surface area unable to expand as urban and industrial areas proliferate. The difference between family farming and industrial agriculture does not lie solely in the dimensions; if anything, the dimensions are a consequence of the philosophy that guides the two models. Family farming produces food. Its focus is the people who will eat it and also the land, which works with the farmers, season after season. Family farming produces things to be eaten, not things to be sold. What's important is to have a harvest, and so it diversifies as much as possible, seeking to integrate itself with the rhythms of nature, not to oppose them. Behind family farming there are no corporations, only farmers, who along with their families are the first to eat their own produce. And there are markets, those nearby but also alternative ones, like food-buying groups, Internet orders or cooperative shops.
Family farming should be celebrated, and politically encouraged and supported because it stops initiatives like Slow Food's Ark of Taste from becoming a list of melancholic memories.
This year also a group of young Jewish foodies from around the world has attended the Salone Del Gusto: twenty two farmers, restaurant owners, food critics and chefs in their 20s and 30s from across Israel, Europe and the United States have been there as members of the ROI Community delegation. ROI Community, an initiative of the Schusterman Family Foundation, connects creative and innovative young Jews from across the globe who have a shared passion for advancing ideas and partnerships that will strengthen Jewish communities and improve society, so the Jewish foodies where attending the Salone Del Gusto to learn more about the Slow Food movement and this year's theme of biodiversity, to take what they learn to shape their own efforts to revive Jewish cuisine around the world to connect Jews to their heritage through food.
Simone Cimotto, professor of the University of Gastronomic Sciences, in Pollenzo, Piedmont, who had organized a few months ago a two days seminar on "The Global History of Jewish Food", will chair today a conference titled "Food without Land" about migrant food and cultures. The conference will delve into the experiences of communities whose gastronomic cultures have been created or consolidated far from their origins, from Jewish and Armenian communities to Italian-Americans, from Turkish and Greek emigrants to the African diaspora.