PURIM 5775 From Hamantaschen to Chiacchiere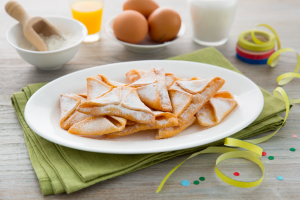 By Rossella Tercatin
In the Jewish world when you say Purim you hear Hamantaschen. The triangle-shaped cookies traditionally filled with poppy seeds (but also jam, chocolate and more) are the typical Ashkenazi food associated with this holiday. Hamantaschnen is offered and eaten all over the world.
And yet the truth is that in the same way Italian minhag (tradition) differs from other Jewish traditions in the world, Italian Purim culinary traditions have much more to offer (Italian traditions are neither Ashkenazi nor Sephardi).
The key concept of triangle-shaped food, which is very distinctive of Purim, is to remind us of either the pointed ears of the evil Haman, his hat or his pockets, "Full of the money that he was willing to spend in order to have the right to kill the Jews living in the Persian empire," Rabbi Elia Richetti told Pagine Ebraiche.
Although Hamantaschen are also popular in Italy, the Italian Jewish community has adapted this concept in many different ways.
The Italian version of Hamantaschen is the "chiacchiere alla giudia". The chiacchiere, which are strips of sweet fried dough, are a typical dish of Italian carnivals. In the Jewish version the corners are bent to form a triangle.
Another typical Italian food for Purim is marzipan. The most colorful recipe is the one for "montini" which are bicolored cone-shaped confections.
"Among the prettiest Purim sweets considered perfect for gift giving are these almond paste-based (Marzipan) confections popular in several cities including Venice and Trieste. Almond paste was introduced to Northern and Central Italy by the Sephardic Jews fleeing Spain, Portugal and Sicily, where they had a long tradition of making elaborate desserts with it," writes the Italian food critic Alessandra Rovati on her blog Dinnerinvenice.com.
At Purim, sharing food with friends and family is essential to celebrate the holiday. If the food is not only good but also especially attractive it is even better. For sure in all respects this is the typical Italian way to do things.