MEDIA – DAFDAF To Read, to Grow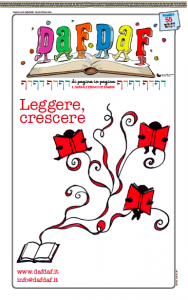 By Ada Treves
"I think it's clear: a book is like a seed, and it creates many readers." It was a few weeks ago when Luisa Valenti wrote these words about her cover for DafDaf, the Jewish magazine for kids. A very special issue, with many pages devoted to books and readers, to honour the Bologna Children's Book Fair. The program opens this year with an evolution of that initiative that in 2014 had a great success and opened the doors of the Bologna Fair to thousands of young readers: the huge international library this year is even bigger, and there have been hundreds of event.
Year after year the collaboration between DafDaf and Elena Pasoli and Roberta Chinni – heads and souls of the Bologna Children's Book Fair – has been growing, and in this edition there will be three different event organized by DafDaf and Pagine Ebraiche. Tuesday 31st at 13.30, at the Authors Caféthere the round table "Telling the unspeakable" will discuss the difficulty of dealing with those subject that ar normally considered too difficult, or too sad for children. The speakers, introduced and moderated by the journalists of DafDaf, will be Anna Castagnoli, expert of illustrated literature, author and herself an illustrator, Paolo Cesari, translator and collaborator of the publisher Orecchioacerbo, the writer Nadia Terranova and Luisa Valenti, illustrator.
DafDaf is involved in other events, all part of the program of the Bologna Children's Book Fair: on Monday night the newspaper is invited as a speaker at the official opening of the Jewish Museum exhibition on Rutu Modan together with Renato Genovese , director of Lucca Comics & Games and Eldad Golan, cultural attaché of the Israeli Embassy in Italy, while Wednesday there will be a workshop dedicated to the history of the ghetto in Rome, with the historian Anna Foa, author of "Portico d'Ottavia", the book published by Laterza and Matteo Berton, its illustrator, with about thirty young readers.
DafDaf opens this month with the pages "musica, Maestra!" in which Maria Teresa Milano relates to Pesach, Passover, with the history of Moses, from Rossini to "Go down Moses", and "Brother Moses smote the water", by the Golden Gate Quartet and The Bishops. Without forgetting Angelo Branduardi and Shlomo Carlebach, for a Pesach in music.
Nadia Terranova welcomes the return of warm weather its two pages of reading suggestions: the subject is "Hugs and Spring", because, as she writes: "Days are getting longer, light enters gracefully through the window, birds will pound your ears, and you'd sleep forever… you will have noticed: it's Spring . Which season would be better to go hunting for sleeping fairies? ".
A great gift to DafDaf, then, arrived this month from Anna Castagnoli, the well-known writer, illustrator and illustrated literature expert that is a reference for the entire sector, thanks to her blog lefiguredeilibri.com
This month she explains to DafDaf young readers some of the mysteries hidden in the pages of one of the most popular books. "Where the Wild Things Are" by Maurice Sendak, in six special pages full of ideas, illustrations – even by herself – and explanations that reveal entire worlds. "Did you happen to be so angry that you wanted to get away from everything and everyone? There is book called 'Where the Wild Things Are' whose protagonist, Max, really does it: he takes a boat and leaves; even if he is a child. Today I want to tell you his story and how the author, Maurice Sendak has conceived and written it. "
More to read in the page by Luisa Valenti, about colouring books, always very popular, and now centre of a revival that has made them increasingly desirable by adults. Economy this month goes back to the Expo, explaining it to children together with a key issue: water. Exceptionally, as it only happens once a year, the space normally taken by the kids's description of themselves has given way to the Bologna Children's Book Fair, to return to the theme of the cover: To read is to grow