MEDIA A Month with DafDaf: Wild Things, Boats and Cartoons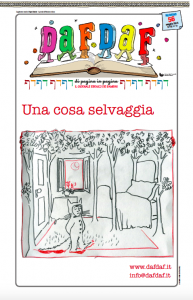 By Ada Treves
Readers of DafDaf know that Spring is the season when the pages of the Jewish magazine for kids are devoted to books, with even more attention than normal. Not only the regular pages by the writer Nadia Terranova, not only news, in May any excuse is valid to give more space to the pleasure of reading. So after writing about some strange libraries in the world, that go find their readers on a donkey, by bike or taking a boat, and after the success of coloring books, this month DafDaf presents two occasions where everything speaks of books: the Festa del Libro Ebraico di Ferrara, now in its sixth year, and the International Book Fair in Turin, during which an entire pavilion will be dedicated to young readers.
Already the cover, exceptionally signed this month by the author, illustrator and expert in illustrated literature Anna Castagnoli, refers to her research on Maurice Sendak iconography in "Where the wild things are." Adapted for the first time to those young readers the book was originally intended for, the text brings children to discover Piero della Francesca and Greek mythology, Bruno Bettelheim and the Divine Comedy, William Blake and the courage to tell the truth.
To tell stories, entertain and make people think … the world of animation appears on number 56 of DafDaf with the presence of Israel at Cartoons on the Bay, the festival that in Venice has awarded with its major prize, the Pulcinella Award, one of its founders: Hanan Kaminski. On the opening day, occurring on Yom HaShoah, the screening of "Nyosha", a short by Liran Kapel and Yael Dekel, brought the attention on Memory and the Shoah. The festival has awarded Israel as country of the year, and another award went to "Anafim Shvurim" (broken branches) by Ayala Sharot, who won the Pulcinella Award for the best educational and social work.
Morà Dafdafà's page, "Who is it?" is about a character in the second book of Kings, and a special gift for younger readers comes from Marco Delmastro, particle physicist working at Cern. It is not an easy subject, physics, but thanks to Marco it will have no secrets even for those who still do not know how to read the newspaper by themselves: "Why can a boat float, both made of metal or wood, when a metal spoon goes to the bottom in the soup bowl while a wooden spoon remains on the surface ". Needed: aluminium foil, spoons, and some time to play together to have fun building boats and making a mess with water… Ideal for Daniel, the protagonist of the last page of DafDaf, who described himself as "turbulent".