NEWS A Very Special Honorary Degree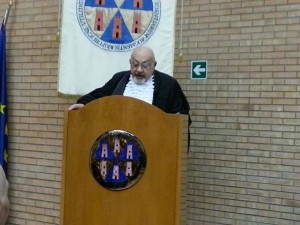 By Adam Smulevich
The University of Molise in southern Italy gave an honorary degree to Piero Terracina, a Roman Jewish survivor of the Auschwitz-Birkenau concentration camp.
Terracina, 86 years old, made it his life's mission to tell young people his story and about how he survived. This is why professor Enzo Di Nuoscio suggested awarding him a degree in Primary Education; a course of study reserved for those who aspire to work teaching the new generations.
In April 1944, 16 years old Piero was arrested together with his family, his sister Anna, his brothers Cesare and Leo, his uncle Amedeo and his grandfather Leone David. They were transferred to the Italian detention camp of Fossoli and then a few days later to Auschwitz-Birkenau. Just Piero, prisoner number A-5506, survived. "Freedom is a daily conquest and we must defend it through participation in democracy," Terracina said during the acceptance speech he was asked to pronounce to those in attendance.
Among the people who attended the ceremony were hundreds of students of the University of Molise; the survivor Sami Modiano, the representatives of the Jewish Community of Rome, the Museum of the Shoah in Rome, the Israeli embassy in Italy, the Community of St. Egidio, and the Association of Former Deportees.
"For at least 30 years Terracina has dedicated all his strength to turning the memories of his personal experience into one collective memory. He shared and transmitted to an impressive number of young (and not so young) people in schools, universities and wherever it was possible," professor Di Nuoscio told Pagine Ebraiche.