NEWS Elio Toaff (1915-2015)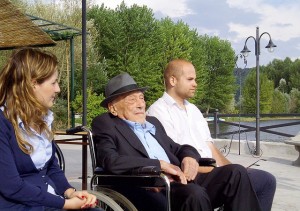 By Rossella Tercatin
Elio Toaff, emeritus Chief Rabbi of Rome passed away on Sunday night. He was born in Leghorn in 1915 and he would have celebrated his hundredth birthday in a few days.
Rabbi Toaff was appointed Chief Rabbi of Rome in 1951. He had an essential role in rebuilding Italian Jewish life in the aftermath of the Second World War and of the Shoah.
In 1986, he welcomed Karol Wojtyla in his historic visit to the Great Synagogue of Rome.
"In these hours we mourn the death of an extraordinary man. He was a leader, a spiritual guide capable of making an impact on his times and the time of the future generations," said the president of the Union of Italian Jewish Communities Renzo Gattegna.
"Thank you Rav for everything you have done and represented. Your teachings will not be forgotten. May your memory be a blessing."
Among those who are honoring the memory of Rabbi Toaff there is also the Italian Prime Minister Matteo Renzi. "My thoughts are for Rabbi Elio Toaff, a great Italian citizen and the symbol of the Italian Jewish community," he tweeted.