NEWS The Grand Rabbin and the Future of European Jewry
By Francesca Matalon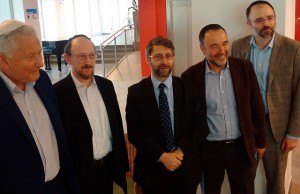 Hope and pride are high even in a difficult historical period. French Jewry is conscious of both its French values and flag. It is a complex identity that the Chief Rabbi of France Haim Korsia presented in Milano Marittima. Recently the rabbi was a special guest at the Moked, the annual spring gathering organized by the Union of Italian Jewish Communities.
Introducing himself equally as a spiritual guide of a hurt and yet strong people and as a proud and active citizen, he answered many questions about the feelings of French Jewry and the responsibilities of its leaders. He did it in the wake of the Paris terror attacks as well as about the new wave of emigration to Israel and the challenges for those who have decided to stay. "My values are Jewish, together with the values of the Republic I live in – freedom, equality and fraternity – which happen to be deeply shared with Judaism", Rabbi Korsia said.
Freedom was the main topic he addressed, pointing out how often we underestimate such a privilege and the historical struggles that were necessary to obtain it; this only happens because we are used to it. "When it comes to the freedom of the press, of expression, even of satire, there can never be any 'but's, because they are the pillars of our society," he added. He stressed the importance of laughter in the Jewish tradition. "This is why we cannot limit others' freedom, even when we are upset, because doing so would limit our own".
The Jewish world according to him ought to be described by the press without hiding its variety, diversity of opinions, the many groups that compose it and even its internal conflicts. All this is what makes it strong. "Such complexity, he stressed, is the key to Judaism's survival; being a unique yet never a uniform people."
Rabbi Korsia thus expressed the necessity for a country's Jewry, as an entity that lives inside the society to distinguish itself for it's cultural and social contribution, which helps to make such a country what it is. And regarding the rising number of anti-Semitic episodes he said that "it is important one doesn't have the illusion of living in a place where such threat doesn't exist, but in a place where society fights united against that threat". In France, he added, there is a new awareness of such phenomenon, proven by governmental authorities with concrete measures such as the Valls Plan. The Plan is a complex system of measures presented by Prime Minister Manuel Valls that will invest 100 million euros in the next three years to fight against racism and anti-Semitism. It also means the deployment of 10,000 soldiers in front of Jewish sites. "I added a paragraph to the prayer to the Republic that we read every Saturday to bless those who protect us", said Korsia, who is also Chaplain of the French army.
Regarding the rising number of aliyot from France, which he links to a general higher mobility of European youth, Rabbi Korsia then added that the choice to move to Israel must not come from fear, but has to be related to a life choice, for philosophical, ideological or religious motivations. "Also, once in Israel, national identity never disappears; on the contrary it becomes stronger," he said.
This ability of the Jews to distinguish themselves translates according to France's Chief Rabbi to the duty of "filling the void and exploiting the potentialities which the society they live in and are a part of offers, bringing their contribution in terms of identity. Thus it makes its presence indispensable to make France the country that it is." As an example of such a role, he told the audience about his plea to add a prayer for the Republic addressed to the Muslim community right after the attacks in Paris.
"Standing out but not being separated from society means at the end of the day, bringing light", Rabbi Korsia said. "It is necessary to always keep in mind that one can light a candle in a room and illuminate it, but if such a room is isolated from the one where everybody else lives, they will always be in the dark. We must never forget – he stressed – that bridges are always stronger than walls."