MEDIA Pagine Ebraiche Honors Rabbi Toaff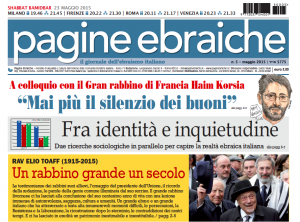 By Rachel Silvera
The new issue of Pagine Ebraiche is dedicated to the late Rabbi Elio Toaff, one of the most important rabbis of Italian Jewry, who passed away few weeks ago.
Pagine Ebraiche collected some of the memories of his former students (many of them currently rabbanim of Italian Jewish Communities), as well as of the president of the Union of Italian Jewish Communities Renzo Gattegna, the president of the Community of Livorno Vittorio Mosseri and the president of the Council of Italian Rabbis, rav Giuseppe Momigliano. Each recalled the impact of Rabbi Toaff not only in extraordinary circumstances, but also on everyday life issues.
On May 1 EXPO 2015 was inaugurated in Milan to celebrate the theme "Feeding the planet. Energy for life". Pagine Ebraiche is dedicating many pages and ideas to the Universal Exposition: from the innovative Israeli pavilion to the new projects by Keren Kayemeth LeIsrael. Carlo Cracco, one of the most renowned Italian chefs, recalls his culinary performances respecting kashrut rules, while Alexander Marzo Magno writes about spaghetti 'alla giudia'.
The "person" interviewed this month is the Grand Rabbi of France, Haim Korsia. Rabbi Korsia speaks about the growing anti-Semitism after the Paris attacks and freedom of the press. He also evokes the extraordinary march against terrorism that united four million people.
The analysis of the sociologist Enzo Campelli, expert in the field of surveys regarding Italian Jewry, can be found on pages 6 and 7 with new data on Italian Jews and the interesting comparison with the previous report of Della Pergola-Staetsky already presented in Pagine Ebraiche.
Also this month, our contributors wrote on various topics: Young Italian-Israeli Michael Sierra offers a chronicle of Yom HaShoah in the Italkim community in Israel. Historian Claudio Vercelli highlights the vices and virtues of the Start-up Nation, while economist Aviram Levy reveals a different perspective on the relationship between Israel and Turkey. Journalist Anna Mazzone and historian David Bidussa discuss Turkey's President Erdogan and the genocide of the Armenians. Historian Andrea Yaakov Lattes focuses on the different choices made by Netanyahu and Obama. Stones are the main topic of the essay by rabbi Moshe Alberto Somekh, while the hope for the arrival of the Messiah is the theme covered of Rabbi Gianfranco Di Segni. Rabbi Amedeo Spagnoletto speaks about the struggle between good and evil.
Pagine Ebraiche closes as usual with a sports-themed and rather unexpected story (the Israeli reporter Itai Anghel confessed he was a huge fan of Fiorentina). Finally there is sweetness: a recipe by the Gambero Rosso chef Laura Ravaioli as well as a story about a bizarre job opportunity offered by the producers of the Israeli beer, Goldstar.