NEWS An Honorary Citizenship for Solidarity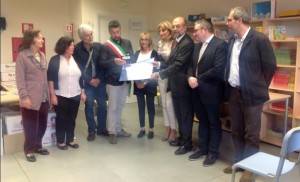 By Adam Smulevich
The Union of Italian Jewish Communities received the honorary citizenship award of Finale Emilia.
Finale Emilia was the center of the earthquake which occurred in 2012 in Northern Italy causing 27 deaths and widespread damage. The award was for the Union's contribution in terms of solidarity to the local population.
First of all with the opening of a new library in the primary school "Elvira Castelfranchi," honors the memory of a Jewish teacher forced to leave her job in 1938, one year before she retired, because of anti-Jewish laws introduced by Benito Mussolini.
"This award honors us and testifies to the indissoluble link that exists between Italian Jews and Finale Emilia, which was home, in the past centuries, to a relevant Jewish community and which is still relevant today; pursuing the educational challenge as a common goal" said the president of UCEI Renzo Gattegna in a message sent to the major Fernando Ferioli.
Citizenship was given to UCEI board member Giorgio Mortara, who coordinated the initiatives promoted locally three years ago. "Culture and memory are key concepts to fight any kind of fanaticism and fundamentalism which could threaten the humanity," stressed Mortara. In the delegation there were the president of the Jewish Community of Modena Tiziana Ferrari and chief rabbi Beniamino Goldstein.