Double Life – Smart Shows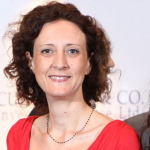 By Daniela Fubini*
As if we didn't have enough misunderstandings with the biggest (and heaviest) of our rather few allies, in Israel the "State of the Union" was until last year a television show: the comedy/political "Matzav Ha-Uma". As soon as my Hebrew became good enough to understand about 60% of what they said in the one hour program, the 4 comedians plus guest stars, I got addicted. For way too long I was missing some witty para-journalism and Jon Stewart was a painful nostalgia of my New York days – and nights, when I used to leave any weekday event or evening out, in time to be in front of the tv by 11.00pm o'clock.
This year, the show has moved channels, and changed name into a much less evocative "Gav Ha-Uma" (something like the backbone of the State), but the fab four stayed the same and that's what matters. My favorite part is when redhead presenter Lior Shlein invites the group to come up with imaginary laws that should make Israel more advanced, clean, educated, friendly with the neighbors and so on.
This week, like every Saturday night, I left every other distraction to follow the show which still engages all my attention and focus: the wit is so quick and games with words and expressions so deeply rooted in the language, that I find myself glued to the screen. Then something bothered me. A too-well-known red strip appeared on the top right of the screen, holding a number. My brain made a click, and I reminded to myself: "this show is new, it is not a re-run from last summer". Therefore, NEW alarms are sounding in the areas marked by those numbers in the South of Israel. Now, while I watch. The commercials gave me occasion to check on-line. Rockets on Ashkelon, nobody hurt and no damage.
One year after the war, all I want is to watch in peace a smart show. Oh, how silly, it's the "peace" part we are missing.
*Daniela Fubini (Twitter @d_fubini) lives and writes in Tel Aviv, where she arrived in 2008 from Turin via New York.