ITALIAN PORTRAITS Italo Svevo, a ground-breaking voice of twentieth-century literature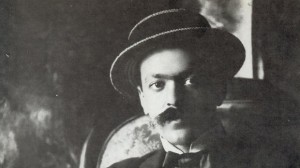 By Colby Robbins
Throughout the course of history some of the greatest works of art and literature have been overlooked by the public when they were first created. This is certainly the case for Italo Svevo whose most well-known work, "La coscienza di Zeno" (published in 1923), was at first largely ignored and did not achieve success until three years after it was originally published. It is today one of the most highly regarded works among early examples of the psychological novel. Many of Svevo's other novels, short stories and plays were only published after his death. Many of these works eventually became highly regarded both in Italy and abroad, especially in France.
Italo Svevo was born Ettore Schmitz in 1861, at Trieste, then part of the Austro-Hungarian Empire. His father, Franz Schmitz, was from a German-Jewish family, while his mother, Allegra Moravia, hailed from an Italian-Jewish background, engendering in the young Ettore that particular combination of Italian and Mitteleuropäisch culture so characteristic of Trieste. He spent his childhood in his well-to-do family home in Trieste until the age of twelve when he was sent to boarding school near Würzburg, Germany. It was at this school that he became interested in writing and in the German classics. He later returned to Trieste to attend the public school there. However, he only attended this school for a short time before he had to quit due to his family's financial troubles. At the age of nineteen he became a bank clerk, a job he performed for the next twenty years. Svevo continued to read and write on the side, which is how his writing career began.
In 1893 Svevo published his first novel, Una vita (A Life), which is based on his experience working at the bank. He published it out of his own pocket—using the pseudonym Italo Svevo in homage to the dual nature of his cultural roots: Italo (Italian) and Svevo (Swabian, i.e. German) — and it went, as did most of his work, largely unnoticed by both the public and literary critics. In 1898 Svevo married a cousin, Livia Veneziani, who came from a family of prosperous manufacturers of marine paint, and when they married Svevo joined the firm. This would lead him to travel throughout Europe for business, especially to England and France. During his first years of working at the firm he moved to England to set up a branch there where he continued writing. He published his second novel, Senilità (Old Age) shortly after his marriage, however this too failed to capture the attention of the Italian people, and his disappointment would cause him to refrain from publishing for the next twenty-five years. When his father-in-law passed away Svevo returned to Trieste in order to take over the company.
A turn for the better in Svevo's literary career occurred in 1907 when he met the young Irish writer James Joyce, who was working as an English teacher at the Berlitz School in Trieste. Svevo hired Joyce to tutor him in English and he became Joyce's pupil. Joyce became a proponent of Svevo's work, and helped get him translated into both English and French. The two remained very close friends until the end of Svevo's life; in fact, both Svevo and his wife served as the inspiration for several characters in Joyce's novels. In 1923 Svevo wrote what is now considered his finest work, La coscienza di Zeno (Zeno's Conscience), which at first was unsuccessful until it was published in France at the suggestion of Joyce, where it was heralded as a masterpiece, appreciated for its ironic humor and expression of the anxieties of the inter-war years. Following this success abroad, his popularity in Italy began to grow.
Unfortunately, his long hoped-for success was short-lived. Svevo would continue writing and lecturing on his books until his death on September 13, 1928. He had started writing a sequel to La coscienza di Zeno, however he never had the chance to finish it as he was involved in a car accident and died a few days later. Although little appreciated in Italy during his life-time, Svevo is now unanimously considered to be one of the most important and ground-breaking voices of twentieth-century Italian, indeed European, literature.
*Colby Robbins is a student at Muhlenberg College (Allentown, Pennsylvania, USA).