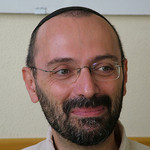 By Benedetto Carucci Viterbi*
In the desert, the Israelites followed the divinely-provided cloud cover which accompanied them. They had no way of predicting the length or difficulty of the various stages on their route, but had to continue to perform their daily tasks regardless. This situation recalls the life of each of us, says Rabbi Wolbe: regardless of our current situation (i.e. the length and difficulty of the stage), we should always carry out our tasks to their best of our ability.
*Benedetto Carucci Viterbi is a rabbi and the principal of Rome Jewish School. The article was translated by Sahar Zivan.