FEATURES Greece, the Jewish Community and the Crisis
By Francesca Matalon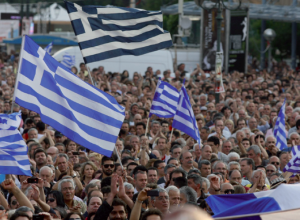 "Greek Jews are coping with the crisis in the exact same way as every other Greek citizens do: we anxiously stand in line at ATMs to withdraw fifty euros a day and are concerned about our future in Europe." This is the straight-to-the-point answer given by Moses Constantinis, president of the Central Board of Jewish Communities in Greece, when asked about the reaction of Greek Jews to the difficult situation that their country, on the edge of bankruptcy, is facing. In the days following the referendum called by Prime Minister Alexis Tsipras citizens chose to say "no" to the proposal of their international creditors (European Commission, European Central Bank, and International Monetary Fund) in exchange for a new support program for Athens.
Uncertainty, restlessness and sometimes even despair are some of the society's feelings: many families can't make it to the end of the month, unemployment is more and more common and there is no money for the retired. Jewish Communities are struggling to deal with all the requests of their members. The Jewish population has been fallen rapidly over the past few years due to the emigration of many young people looking for work. Some Holocaust survivors are not even receiving their government subsidies.
"Jewish Communities in Greece, just as everywhere else in the world, are responsible for Jewish continuity in their country. Therefore we will keep on fighting in order to keep the activities going in Jewish schools, synagogues and social services as we always did," Mr. Constantinis said to Pagine Ebraiche. "This will happen – he added – always bearing in mind the concepts of our Jewish principles of charity and solidarity."
"At the same time, we are determined, together with all democratic citizens in our country, to prevent any surge of anti-Semitism, especially in a period of crisis such as this one", Mr Constantinis added. The danger is concretely represented by the far-right party Golden Dawn, whose populist rhetoric points to Jews as responsible for the economic crisis. According to a recent report by the Anti-Defamation League, 85% of the population shares this idea.
The Jewish Communities' top priority, however, is providing assistance to those in need. The Jewish Community of Athens, for instance, assists financially in terms of coupons, but also provides for medical expenses and psychological support for about 60 people, but numbers are growing. "Jewish Communities and institutions are doing everything possible to help, but we are certain that in case of necessity we would have the support of Jewish Communities and institutions worldwide," Mr Constantinis stressed.
This is already happening, with the American Jewish Committee and the Jewish Agency for Israel and the World Jewish Congress. But Israel too expressed the will to be closer to Greece: "Israel is attentive to what happens in Greece, shares its pain and is ready to help in any way," said president Reuven Rivlin in a meeting with Greek Foreign Affairs Minister Nicolas Kotzias.
"I believe that not only do we have a common past, but we will also share the future, which is the interest of both our peoples," Mr. Kotzias answered.
Mr. Constantinis declares himself strongly convinced of the necessity for Greece to stay in the EU, underlining that "Greek culture is at the basis of European culture, and European culture is part of modern Greek culture."
"I must say, he added, that remaining in EU will grant stability in the region which is threatened by many factors of instability in the Middle East."