NEWS Renzi: "Italy Stands by Israel in the Fight against Terrorism"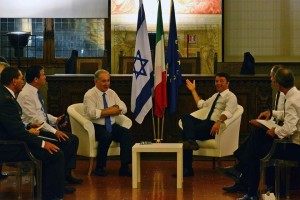 By Rossella Tercatin
Italian Prime Minister Matteo Renzi highlighted the friendship and the common values Italy and Israel share in a joint press conference with his Israeli counterpart Benjamin Netanyahu on Saturday night. "Italy stands by Israel in the fight against terrorism and in the pursuit of peace for the whole region," Renzi said.
The press conference held in the historic Palazzo dei Cinquecento in Florence marked the conclusion of Netanyahu's three-day visit to Italy, the first overnight official visit abroad since he was re-elected in March.
Netanyahu divided his time between Milan, where he visited the World Expo, and Florence, where he met with Renzi. The Prime Minister of Israel also met with a delegation of Italian Jewish leaders, including among others, the president of the Union of Italian Jewish Communities Renzo Gattegna and the president of the Jewish Community of Florence Sara Cividalli.
"The meeting went very well," Gattegna commented. "Netanyahu considers Italy Israel's bridge to Europe, because Italy puts an effort into understanding Israel's needs more than any other country in Europe."
Outside official moments and meetings, the Israeli prime minister found time to visit the beauty of both cities together with his wife Sarah. Among other sites, the Netanyahus saw the Cenacolo, the masterpiece by Leonardo Da Vinci in Milan, and took a relaxed walk in Florence on Saturday.
"There is a simple rule, that is absolutely critical for the future of our societies. The future belongs to those who innovate. Italy has always been at the forefront of creativity, over the centuries and today. Israel in turn is a global hub of technology," Netanyahu remarked during the press conference with Renzi. "I think that together we can innovate more than separately, both for the benefit of our peoples and for the benefit of other peoples, especially in Africa."
The Israeli prime minister also took the opportunity to warn Italy and the world against the threats posed by the Islamic State, and Iran.
"Israel doesn't oppose a civilian nuclear program in Iran. We oppose a military nuclear program in Iran. Regrettably, the deal with Iran allows it to keep and expand a formidable nuclear infrastructure that is completely unnecessary for civilian nuclear purposes, but is entirely necessary for the production of nuclear weapons", he said.