NEWS Rome's New Commissioner Visits the Jewish Neighborhood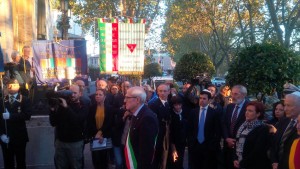 By Adam Smulevich
Paolo Tronca, who was tapped to run Rome after mayor Ignazio Marino was forced to step down, chose to visit the most important sites of memory of the past as his first act after his appointment.
The new commissioner, who was Milan's top security official during the Universal Exhibition, first went to the Ardeatine Caves, where on March 24, 1943 the Nazis carried out a mass killing of 335 Italian prisoners (many of them Jews). Afterwards, he visited the old Jewish Ghetto and commemorated the victims of the Shoah who were rounded up there in 1943/1944.
Tronca was accompanied by the President of the Union of Italian Jewish Communities Renzo Gattegna, who stressed the importance of such significant gestures of "friendship, anti-fascism and exaltation of the values contained in the Constitution".
At the synagogue he was also welcomed by a delegation of the local Jewish Community composed by the President Ruth Dureghello, vice-President Ruben Della Rocca and chief rabbi Riccardo Di Segni.