NEWS Chanukah Lights Up Italian Squares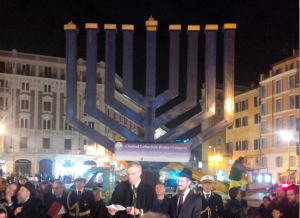 By Rossella Tercatin
Chanukah candles are lighting up Italian squares. In Rome, Milan, Florence, Turin, Venice, public menorah lighting is taking place attracting local Jews and fellow citizens who have chosen to overcome fear in the wake of the latest wave of terror attacks in Paris.
The ceremonies were mostly organized by members of Chabad-Lubavitch, the Chassidic group who started the tradition of public menorah lightings almost 40 years ago in the US. Nowadays, thousands of lightings take place every year all over the world.
In Rome the lighting took place in central Barberini Square, and it was attended, among others, by Israeli Ambassador Naor Gilon, Rome's Commissionaire Paolo Tronca, president of the Jewish Community of Rome Ruth Dureghello and chief rabbi Riccardo Di Segni.
"In the weeks since the heinous attacks that killed and wounded hundreds, Paris police have prohibited large public gatherings and events as a heightened security measure. With record-high levels of violence towards Europe's largest Jewish population, some French Jewish leaders have expressed concerns. After the November terror attacks, extra police were installed to guard the historically Jewish Marais neighborhood in Paris, while a teacher at a Jewish school in Marseilles was stabbed by three attackers who appeared to support the Islamic State group," reads a post on the movement's website.
"But as a matter of principle, Chabad has always taken the position that shutting down its Jewish activities would be a capitulation to terror, a submission to darkness which the Chanukah lights are intended to dispel. On Tuesday, Chabad delegates met with local officials to plan for safe and secure Chanukah celebrations".
Public menorah lighting will also take place in the city of Trani in southern Italy.