FEATURES A Surprising Italian Renaissance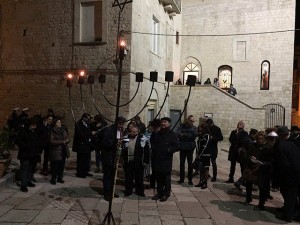 By Julie Carbonara*
Through the centuries, in spite of their meagre numbers, Italian Jews have had a huge impact on Italian life and on Judaism as a whole. Currently, Italian Judaism is undergoing a transformation, fuelled partly by the influx of Jews from Arab countries over the past decades and a revival in the South where it had been virtually absent for hundreds of years.
Standing at about 28,500, Italy's Jewish population may be among the smallest in Europe but that has always been the case. "However, although there are few of us, Italian Jews have characterised and often determined many pivotal events in Jewish history," points out historian Gadi Luzzatto Voghera. "It was here that Hebrew typography was born at the end of 1400; the standard form of Talmud (still in use today) was founded in Venice; and the first rabbinical college was opened in Padua in 1829. These are just a few examples. You don't need big numbers to make an impact."
Which is just as well, as numbers are indeed dwindling – but then the whole Italian population is reducing. The fabric of Italian Jewry has undergone drastic changes in the past decades, with a progressive weakening of provincial communities and a consolidation in such major centres as Milan and Rome.
There the influx of Jews from Libya and other Islamic countries has provided a welcome injection of fresh blood and revitalised the life of the communities. In Rome, for instance, the arrival of the Libyans, more religiously observant and traditional, boosted the number of kosher shops, swelled congregations and led to the opening of more synagogues. All the new arrivals threw themselves with gusto into local Jewish life leaving their mark on Italian Judaism.
Possibly the most exciting developments have been taking place in the south of the peninsula. Southern Italy had been home to the oldest Jewish community in Europe – the Italkim, who have lived in Italy since Roman times – and Judaism had flourished in the 15th century when Jews expelled from Spain had established thriving communities in Naples, Calabria, Puglia and Sicily. Sicily alone at one point boasted 52 Jewish communities with a total of 37,000 members but, by the end of the century, the heavy hand of the Inquisition had forced most to leave or convert.
Until fairly recently, according to UCEI (Union of Italian Jewish Communities), the Orthodox body that, according to the Italian State, is the only official representative of Italian Jewry, Naples was the southernmost frontier of Italian Judaism.
But that was before Rabbi Barbara Aiello decided to leave her native Pittsburg for her family's ancestral home in Serrastretta, Calabria. There, she made it her mission to unearth Southern Italy's Jewish past and help local B'nai anusim – the descendants of people who had undergone forced conversion (marranos) to get back in touch with their Jewish roots.
Aiello's credentials – she is a Reform, female rabbi – set her on a collision course with Italy's Orthodox rabbinate from the beginning but the work done by her Italian Jewish Cultural Centre of Calabria to identify "hidden" Jews has boosted the profile of Judaism in Southern Italy and is followed with interest by scholars.
In a more recent development that may or may not be totally unrelated, UCEI, in conjunction with Shavei Israel, has officially acknowledged the importance of the B'nai anusim of the South by appointing Rabbi Pinchas Punturello as the area's chief rabbi "to reach out to the growing number of B'nai anusim who have begun discovering their Jewish roots."
Caught between Rabbi Barbara's all-inclusive but for some too-modern approach and the iron grip of the Orthodox Rabbinate is a proliferation of independent initiatives.
Many struggle to get off the ground but are nonetheless evidence of a renewed blooming of Judaism in Southern Italy.
Like its Jewish past, the South's huge cultural heritage of catacombs, old synagogues, cemeteries and priceless artefacts is also just waiting to be rediscovered and could be put to good use to attract Jews and non-Jews alike.
The interest is there: every year, the European Day of Jewish Culture sees tens of thousands of visitors flock to towns and villages throughout the country to learn about the history of Jewish Italy.
But even where communities are getting smaller, their vitality remains. The university town of Padua, in Italy's north-east, is an example.
Currently, there are just 170 Jews in Padua but it was thanks to this minuscule community's commitment and "can do" attitude that – in a country famed for its red tape – the recently opened state-of-the-art Museum of Jewish Padua was built in the space of six months.
The museum showcases the town's rich Jewish heritage and is a statement of intent, a visible demonstration of the dynamism and survival spirit of the local community and of Italian Jews in general.
It says, in the words of Gadi Luzzatto Voghera, who was instrumental in its creation, that "we are part of this town's history and of the history of Judaism. Creating a dynamic museum helps perpetrate this history and revitalise our small community."
Numbers don't always tell the whole story.
*The London Jewish Chronicle, January 4, 2016. In the picture, the Chanukah public lighting in the city of Trani, Apulia.