FEATURES Venice Aims to Restore Shylock's Ghetto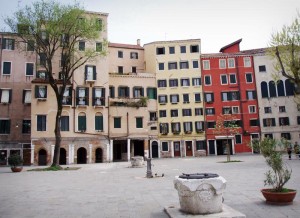 By Tom Kington and Philip Willan*
Five hundred years after it was founded in Venice, Europe's original Jewish ghetto is fighting to preserve its ancient synagogues as monuments to Jewish resilience — and as a warning about intolerance and segregation. The singer Barbra Streisand is among backers of an 8 million fundraising drive by Venice's Jewish community to restore the area where, for nearly 300 years, Jews were locked up at night and forced to wear yellow caps.
Built on the site of an old metal foundry, the small district took its name, Ghetto, from the Venetian word "getar", meaning to smelt. "This place is so important because its name entered the language, right through to the Nazi ghettos and black ghettos in the US," Shaul Bassi, a local campaigner, said.
Venice's rulers set up the ghetto in 1516 and forced all Jews to move there and work either as money lenders or clothes sellers, even making them pay for the guards who locked the gates from midnight to 5am and patrolled the canals circling the area. By the time Napoleon demolished the gates, in 1797, the residents had been forced to add ever-higher buildings to accommodate the growing population. Rising to eight stories, and packed with low-ceilinged apartments, they still crowd the ghetto's central piazza.
About 500 Jewish people live in Venice today, down from 5,000 in the 17th century. The Pope sought to draw a line under centuries of Catholic repression of Jews yesterday, stating in Rome during his first visit as pontiff to a synagogue, that Catholics should no longer seek to convert Jews to Christianity. That stands in stark contrast to life in the Venetian ghetto four centuries ago, when Jews were not allowed to build their own synagogues, and were instead forced to use Christian architects — who created the district's collection of opulent baroque, rococo and neoclassical places of worship. Now, three will be restored and opened for visits. A museum will teach visitors about the cultural hothouse the ghetto became.
Paolo Gnignati, the head of Venice's Jewish community, said the people had seen their ghetto less as a prison and more as a safe haven. "People flooded here, because elsewhere was worse," he said. "Ironically, they had security they didn't have elsewhere. What started with a fence has ended in liberty, and that is what we are celebrating."
Concerts and exhibitions will be held this year to mark the anniversary, as well as a performance in the ghetto's piazza for the first time of Shakespeare's Merchant of Venice. "Shylock is odious, but he is the most famous Venetian Jew — we cannot pretend he doesn't exist," said Mr Bassi. Shalom Bahbout, Venice's chief rabbi, said the ghetto was a warning against forcing migrants coming to Italy today into isolated communities.
*The articles was published in The Times on January 18, 2016.