FEATURES The Jewish Community of Milan Celebrates Its 150th Anniversary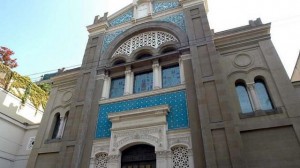 By Francesca Matalon
It is time for celebrations for the Jewish Community of Milan, as 2016 marks the 150th anniversary since its foundation. The presidents Milo Hasbani and Raffaele Besso announced that the Community will be sharing this important moment with all the city, with a festival of Jewish Culture – called "Jewish and the City", at its third edition – entirely dedicated to the event in the upcoming spring.
The history of Milan's Jewish Community started in 1866. Back then Italy was a newborn country still fighting its wars of independence, which Milan had been one of the main theaters. Before that, as the city was still under the rule of the noble families of the Viscontis and the Sforzas, Jews were prohibited to stay in Milan for more than three days for business.
Therefore, the presence of a real organized group dates to the beginning of 1800, and it was established as a section of the large Jewish Community who back then lived in the neighboring city of Mantua. With Italy's reunification though, Jews were free to move to Milan, and this is how the Jewish population became larger than Mantua's, so that in 1866 was officially established as an independent Community.
The great synagogue in the city center, in via della Guastalla, inaugurated in 1892, became the center of religious life. A few years later a kindergarten was established, and in 1920 an elementary school was also started. In 1928 the school was moved to via Eupili, in the building that hosted it also during the years of World War II.
During that terrible period, Milan became a very important center for emigration to Israel, thanks to the activity of an organization called Delasem, the Delegation for the Assistance of Jewish Migrants, which was created in 1938 by the Union of Italian Jewish Communities in order to help Jews escape the countries under control of the Third Reich. About five million Jews reached Palestine or America from Milan. Delasem's activity went on until 1943, when its headquarters were destroyed in a bombing. But even after that, it kept on working underground providing assistance and refuge to the Jews who were still in town and to the many who were passing through the city on their way to Switzerland.
The Holocaust was a tragedy for the community. Of 896 people deported to the extermination camps, only 50 came back. Moreover in 1943 the great synagogue was heavily damaged in a battle in the area.
But even after such difficult times, Milan's Jews found their way to start again and bring the Community back to its lively existence.
To be continued.