EVENTS Milan Celebrates 150 Years of Its Jewish Community with Culture Festival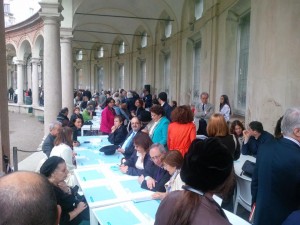 By Pagine Ebraiche staff
 
The culture festival "Jewish in the City" opened in Milan on Sunday. Hundreds of people gathered at the historic site Rotonda della Besana which is a large edifice with a vast portico completed in the first half of the 18th century. They were there to take part in the event, "The Table of the Community." The event provided the opportunity to taste Jewish cuisine and kosher products, as well as to find out more about Jewish traditions about hospitality and inclusivity and cultural encounters. Among the speakers were the chief rabbi of Milan, Alfonso Arbib, the co-presidents of the Jewish Community, Raffaele Besso and Milo Hasbani, and the president of the Foundation of the Shoah Memorial of Milan, Ferruccio de Bortoli. Concluding the first day of the festival, which will end on Tuesday, there was a special night at the Franco Parenti theatre: on Sunday night a movie told the story of the 150th anniversary of the Jewish Community which was the main theme of the festival. Director of "Jewish in the city" rabbi Roberto Della Rocca then gave a talk on the Qohelet, which was also the inspiration for the succeeding performance which represented the Book of Ecclesiastes through words, music and dance.