EVENTS Jewish Festival to Take Place in Milan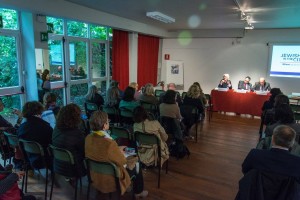 By Francesca Matalon
 
The cultural festival "Jewish in the City" will take place in Milan on May 29-31. The theme chosen for this third edition is the 150th anniversary of the Milan Jewish Community, which was established in 1866. The aim of the festival is not only to spread Jewish culture, tradition and universal message, but also to show how Jews are part of the city's history and society.
 
Jewish in the City was presented last week by its scientific director, rabbi Roberto Della Rocca, its co-curator Cristina Colli and a Board Member of the Jewish Community responsible for the project, Gadi Schoenheit. To present this very special edition of the festival, they chose the name with the hashtag, Jewish in the City #150.
 
The festival will describe Judaism in "all its various expressions," as suggested by Rabbi Della Rocca. And it will do so starting from the history of the Milan Community, which has always been "able to communicate and draw from the outside and the others, remaining nevertheless faithful to its values and keeping on giving new answers, because Judaism is a way of life as well as a culture." This way, the Community became "a minority which fights so that there can always be minority cultures in the city."
 
The relation with the city is thus at the center of the festival. That is why its many conferences, shows, concerts, cooking demonstrations, presentations and workshops will be held in many locations all around Milan. Some very important institutions are involved, such as Bocconi University, the Fondazione Corriere della Sera (the Foundation of one of Italy's major newspapers), and Eataly, the foodies' paradise of the Made in Italy brand. Other venues include Palazzo Marino, Milan's town hall, the historic library, Biblioteca Ambrosiana, and many museums and theatres, together with synagogues and Community centers.