CULTURE Shylock Gets Ready to Land in Venice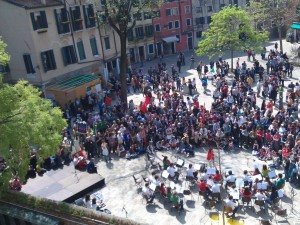 By Rossella Tercatin
A very special production of "The Merchant of Venice" by William Shakespeare is on its way to being presented where it is ideally set, in the heart of the city's Ghetto.
The production, by Compagnia de' Colombari, is part of the initiatives to mark the 500th anniversary of the establishment of the Ghetto in Venice, the first one in history.
The play will be performed in the Campo de' Ghetto, the neighborhood main square from July 26 to July 31, 2016. "All during the course of the play, Shylock is and remains a foreigner, an outcast," director Karin Conrod explained to the Italian newspaper, Pagina99. "For this reason, the character will be performed by five actors, men and women of different ages, nationality and religion. This is to make sure that the audience better understands Shylock's role as an outsider. This way the painful human nature of the character will be highlighted more than the individual performance of an actor."
Among its cast, the production will feature Reg E. Cathey (House of Cards), Ned Eisenberg (Million Dollar Baby) and Linda Powell.
"Both the Ghetto and the Shakespeare play historically had an anti-Jewish function," comments Shaul Bassi, professor of English Literature at Università Ca' Foscari of Venice, who is among the people who started the project of this new production. "Both contributed to force the Jews in limited spaces and categories of thought, for example, identifying them with money and usury, with prejudices that exist up until today. However, they have also functioned as catalysts of Jewish culture and have contributed to the dialogue among civilizations."