NEWS European Rabbis Meet in Rome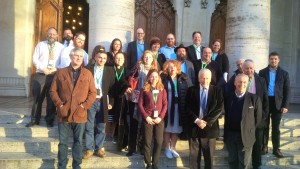 By Adam Smulevich
Rabbis and representatives of different currents of European Jewry met in Italy, in the surroundings of Rome, for a strategic confrontation concerning the future of their Communities and the possible synergies to activate.
"The Europe to come", "European Jewry to come", "To be a Jew today", "A strategy for European Jewry" were the main topics discussed during the meeting organized by Matanel, an international foundation that focuses on strengthening the rabbis' status and roles in the Jewish communities throughout Europe. Also by providing them, its mission-statement said, "with means ensuring their happiness through the success of their ritual and spiritual work".
"These are issues that require a real commitment. Words are not enough. It is necessary to start a process of awareness and action. I'm comforted by the fact that the level and seriousness of the talks were such that no time at this meeting has been wasted," rabbi Eliahu Birnbaum stressed to Pagine Ebraiche.
Among the protagonists of the think tank (a dozen countries were represented) were the chief rabbi of Rome, Riccardo Di Segni, and the chief rabbi of Trieste, Eliezer Di Martino, together with the President of the local Jewish Community, Ruth Dureghello.
Also warm greetings were addressed by the President of the Union of Italian Jewish Communities Renzo Gattegna in welcoming the participants at the entrance of the Great Synagogue together with Rome's Community Councillor Giacomo Moscati.