NEWS Gearing up for the European Day of Jewish Culture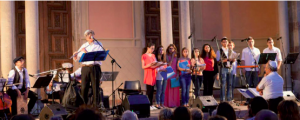 By Rossella Tercatin
Italian Jewish communities and institutions all over the country are gearing up for the 16th European Day of Jewish Culture, which will take place on September 6th, 2015, with the motto "Bridges".
Florence has been selected as the leading city in Italy for 2015 and it will offer events starting from Thursday, August 27. Among the events there will be concerts, lectures, food tastings, book presentations and performances in different locations, including the gardens of the great synagogue.
"Building bridges and enhancing dialogue is essential, especially in challenging times like the currents ones," said Renzo Gattegna, the president of the Union of Italian Jewish Communities (UCEI), the umbrella organization in charge of Jewish Culture Day in Italy. "Culture is our main tool, maybe our only tool, to protect our values, to explain what we believe in and to reflect together on the problematic issues of this era."
The European Day of Jewish Culture will be celebrated in over 20 European countries, including Croatia, Czech-Republic, Denmark, France, Georgia, Germany, Greece, Hungary, Lithuania, Netherlands, Norway, Poland, Romania, Russia, Serbia, Slovenia, Spain, Sweden, Switzerland and Turkey.