EVENTS Italy Gears up to Celebrate Jewish Culture and Its Languages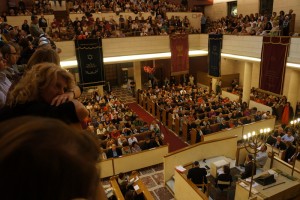 By Rossella Tercatin
 
The 2016 European Day of Jewish Culture is coming up, and, as for usual, Italy is going to be among the countries with the highest number of events and locations taking part in it.
This year edition will investigate the topic of Jewish languages and dialects: Hebrew, but also Yiddish, Ladino, Aramaic, the different Judeo-Italians and many more.
 
Milan, whose Jewish Community celebrates the 150th anniversary since its establishment in 2016, has been selected as the leading city. On Sunday, September 18, the Day will feature lectures, exhibits, guided visits to Jewish sites, concerts and performances, in Milan as well as all over Italy.
 
"The European Day of Jewish Culture was started over 17 years ago to promote the direct knowledge of Jewish culture and traditions by opening the doors of synagogues, museums and Jewish sites located all over the continent," highlighted the president of the Union of Italian Jewish Communities (UCEI) Noemi Di Segni in presenting the Day, adding that "the initiative is the result of the belief that the better tool to fight prejudice is to foster knowledge".
 
More than 30 European countries will host events celebrating the Day, which is coordinated by the European Association for the Preservation and Promotion of Jewish Culture and Heritage (AEPJ). In Italy over 70 cities will take part in it, demonstrating how the Jewish presence has been an important part of Italian history all over the country, as emphasized by Di Segni.
 
"It is our conviction that in the complicated historical era we are experiencing, it is important to keep presenting positive initiatives. These initiatives aim at building ties and bridges within inclusive societies, which protect the rights of everyone and respect every piece of the cultural mosaic of our times. The European Day of Jewish Culture is an opportunity to share this ideal," concluded UCEI president.