CULTURE Manuscript of Giorgio Bassani's Masterpiece to Be Exhibited in the Museum of Italian Judaism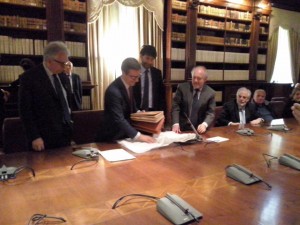 By Adam Smulevich
 
Once the National Museum of Italian Judaism and the Shoah in Ferrara (MEIS) is completed, it will exhibit a manuscript of extraordinary symbolic value: a manuscript by Ferrara writer Giorgio Bassani, author of one of the most important novels of the twentieth century, The Garden of the Finzi-Continis. The book is a masterpiece in its genre and one of the most relevant pieces of literature about the Holocaust in Italy and Europe.
 
For decades, The Garden of the Finzi-Continis and its deep insight into human feelings have left passionate readers with a burning question: who was the inspiration for the character of Micol, the fascinating main female character? The manuscript suggests a possible answer: Micol was inspired by a very good friend of Bassani, a noblewoman called Teresa Foscari Foscolo. In 1961, she received the manuscript of the book from Bassani, including this dedication: "Dear Teresa, without your help, the book would have never been written. I wish that these notebooks always remain with you."
 
Last week, the Foscari family donated the manuscript to the city of Ferrara during a moving ceremony held in the office of Culture Minister Dario Franceschini in Rome. Attending the ceremony were the mayor of Ferrara Tiziano Tagliani, the president of the MEIS, Dario Disegni and the president of the Union of Italian Jewish Communities, Renzo Gattegna.