EVENTS A Ceremony to Honor the Jewish Brigade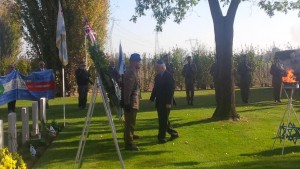 By Pagine Ebraiche Staff
A ceremony to honor the Jewish Brigade was held at the War Cemetery in the village of Piangipane, in the Emilia-Romagna region of Italy. The cemetery contains hundreds of Commonwealth burials of the Second World War, including those of the Jewish Infantry Brigade group, which played an important role in the liberation of Italy from the Nazis and the Fascist regime. 
"The Jewish Brigade represents an extraordinary page of history which belongs to the entire country and cannot and must not be forgotten. This is particularly true today as there are still people who try to re-write history and the Brigade's contribution and who try to deny truth with shameful distortion. However, we are not going to allow it to happen," the president of the Union of Italian Jewish Communities (UCEI) Renzo Gattegna said, speaking at the ceremony. 
The names of the fallen were read to keep their memory alive.
Attending the event were also: the Israeli ambassador to Rome, Naor Gilon, the military attaché, Kobi Regev, the chief rabbi of nearby Ferrara, Luciano Caro, a member of the UCEI council Eileen Cartoon, mayor of Ravenna Fabrizio Matteucci, a delegation from the Italian Ministry of Defense and  delegations from several Italian Jewish Communities (among them, the president of the Jewish Community of Rome, Ruth Dureghello, the president of the Jewish Community of Ferrara Andrea Pesaro, the president of the Jewish Museum of Bologna, Guido Ottolenghi, a member of the council of the Jewish Community of Bologna, Ines Marach,  and the former president of the Jewish Community of Rome, Riccardo Pacifici).