VENICE AND THE GHETTO A Note on Language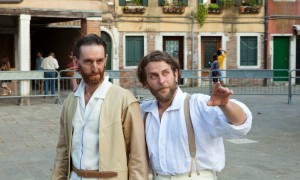 By Davina Moss*
Welcome to Venice! The city was, has been and continues to be a thriving, multicultural hub. It is uniquely placed centrally within Europe, on the water, to be open to all comers and both in Shakespeare's time and today, Venice is a centre of activity for those from all nations. Walking through St Mark's Square today, one loses count of the number of languages heard, and this has not changed over the generations.
For The Merchant in Venice we wanted to harness this sense of the teeming, bustling, polyglot city for the world inhabited by our characters. While Shakespeare's English dominates, you will hear Italian, Spanish, French and many other languages on the tongues of our actors. Perhaps it will remind you of your time in Venice outside the theatre, where multiple languages clash and clatter together.
And our Shylocks in particular use Yiddish, Judeo-Venetian, Ladino and other forms of Jewish languages. Not all of these would have been in parlance at the same time, or necessarily in the ghetto of Venice, but they all form part of Jewish history. With our five Shylocks, Karin Coonrod's production highlights the multiplicity of Jewish experience; it is sufferance ("the badge of all our tribe") that unites them—suffering, and the endurance of that suffering. Hearing these linguistic forms in the mouths of these talented actors helps bring to life a legacy of Jewish life of which Shylock forms only one part.
But if setting Shakespeare's Merchant in Venice's actual ghetto does anything, it is that it carries Shylock through history and revisits the ghettoization of the Jews through time, an explication of Jewish suffering.
Our Shylocks speak the languages of many ghettos. Travel through time with them.
*Davina Moss is an assistant dramaturg. This article was published in the booklet by Ca' Foscari University of Venice, Compagnia de' Colombari and Committee for the 500 years of the Ghetto on the occasion of the new production of "The Merchant of Venice" performed for the first time in the Ghetto. The picture is by Andrea Messana.