NEWS Italian Jewish Community Comes to the Aid with Earthquake Relief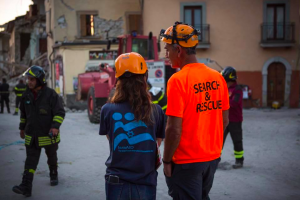 By Adam Smulevich
 
The Italian Jewish community is working to help the population hit by the recent earthquake which killed almost 300 people in the four Italian regions (Lazio, Umbria, Abruzzo and Marche). Following a statement in which its president Noemi Di Segni expressed full solidarity with the victims, the Union of Italian Jewish Communities (UCEI), together with the Jewish Community of Rome, the Jewish Medical Association and an association of Jewish blood donors, set up a blood drive in the immediate aftermath of the earthquake, on August 24.  
 
Few hours later, the UCEI also opened a fundraising campaign inviting all to donate. The campaign raised nearly 30,000 euros, with the cooperation of international organizations such as the European Jewish Congress and the American Jewish Joint Distribution Committee.
 
The UCEI, in strong cooperation with the Jewish Medical Association, is also working to form a pool of professionals to be sent into the municipalities most affected by the quake. The volunteers of the Israeli NGO IsraAid are already in the area with a 20 member staff of Search & Rescue, Relief and Trauma Specialists.
 
Moreover, the National Museum of Italian Judaism and the Shoah (MEIS) of Ferrara was among dozens of state museums and cultural sites that decided to donate all proceeds from last Sunday's visitors to aid earthquake victims and rescue efforts.