VENICE AND THE GHETTO A Jewish Island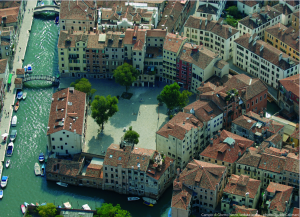 By Eli Mendelbaum*
It has been 500 years since the founding of the Jewish Ghetto, the first in the world, in Venice in 1516. "People don't understand the significance of the word ghetto, where it comes from and how the Jews lived there," explained Gioia Sztulman of the Israel Museum, where an exhibition showing artifacts that survived centuries of exile and ghettos is currently on display.
One of the more moving artifacts is a curtain from 1601, not long after the ghetto was established, displaying symbols from the family to which it belonged— the Cohen family. The curtain is embroidered with silk and gold thread on velvet fabric and reads: "Alms for God, in honor of Dr. Joseph Cohen." The curtain is embroidered with a coat of arms, hands in a priestly blessing, and five small medallions in a decorative pattern.
"This is an opportunity to experience spiritual and cultural creativity, despite the limitations imposed upon them," said Sztulman. "Patchwork velvet is a technique typical of the 16th century and 17th in general and Venice in particular. Trading second-hand fabrics was also one of the few professions Jews were allowed to engage in, apart from loan interest and medicine. Due to their availability, Jewish ritual items were made of the most luxurious of fabrics."
The Republic of Venice decided to establish the Jewish ghetto in order to put all of the Jews who had immigrated into the Republic from all over the world, such as from the Middle East, Spain, Northern Germany, and France.
"They decided to create legislation to put the Jews in a separate area which would be completely isolated from the city," Sztulman explained. "The word ghetto literally referred to a metal melting foundry in Venice, (which is where the Jews were confined to). It was located on an isolated island which took two bridges to cross, bridges which were closed at night."
Sztulman went on to say that despite the isolation the Jews lived in, this was the first time in history that there was a designated place for Jewish settlement.
"They didn't need to have the permission of a government or king to live where they were living – this was a permanent settlement for the Jews. It was a place where they could flourish and create culture. And despite the fact that the Jews were from different communities, they made their own distinct culture."
The ghetto was eventually liberated by Napoleon Bonaparte in 1797 when his army conquered Venice.
"However," she continued, "despite the luxurious way things are presented, it must be emphasized that despite the poverty, the ghettoizing, and overcrowding, this was the first permanent Jewish settlement."
*The article was published in Ynet on September 27, 2016.