EVENTS Pagine Ebraiche at Milan Bookcity Festival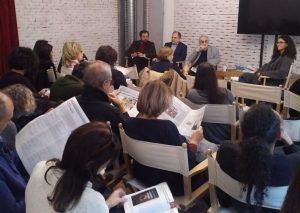 By Daniel Reichel
 
With three events organized on Sunday, the Italian Jewish paper Pagine Ebraiche was one of the protagonists of Bookcity, the Milan Festival dedicated to books, writers and literature. 
 
The first event focused on online hate and digital dementia (as professor Manfred Spitzer defined it): the journalist of the Union of Italian Jewish Communities Ada Treves moderated the debate between the sociologist Giovanni Ziccardi, the philosopher Giulio Giorello and the legal expert Carlo Melzi D'Eril. They discussed how online hatred has turned into a tool for politicians and media to get consensus: those who should work to stop the verbal violence on the social networks are doing exactly the opposite to gain more followers.
 
History was the main topic of the second event organized by Pagine Ebraiche. "When does this Story finish? Soul, body and fate in the thought of Yuval Harari and Serge Gruzinski," was the title of event which offered a dialogue between the editor in chief of Pagine Ebraiche Guido Vitale, historian David Bidussa and the new director of the Center for contemporary Jewish documentation Gadi Luzzatto Voghera. Their speeches presented the books of two great modern thinkers, French Serge Gruzinski, author of "Do we still need History? The sense of the past in the globalized world," and the Israeli Yuval Harari, author of "Homo Deus: A Brief History of Tomorrow."
 
In the afternoon, Pagine Ebraiche organized a lecture by historian of literature Alberto Cavaglion, author of "Toward the Promised Land. Italian writers in Jerusalem from Matilde Serao to Pier Paolo Pasolini." The event was in collaboration with the Italian Touring Club, and also featured scholar Bruno Pischedda and journalist Paolo Salom. The discussion focused on the connection between Jerusalem and some of the most important Italian writers.