CULTURE The MEIS Joins the European Network of Jewish Museums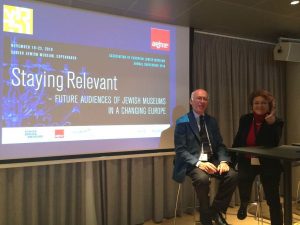 By Pagine Ebraiche staff
 
The Museum of Italian Judaism and the Shoah (MEIS) has joined the Association of European Jewish Museums (AEJM), the organization that aims to promote cooperation and communication between Jewish museums in Europe. The director of the MEIS Simonetta Della Seta, and its president Dario Disegni, participated in the AEJM annual conference, held in Copenhagen last week, and introduced the project of the institution to the other members. 
 
The 2016 conference focused on "Staying Relevant – Future Audiences of Jewish Museums in a Changing Europe". 
Della Seta and Disegni explained the timeline for the completion and activities of the MEIS until 2020, emphasizing the role of the Union of Italian Jewish Communities, of the Italian government, and of local institutions.
 
The session was met with great interest by the representatives of the other Italian museums in Europe.