NEWS UCEI and IsrAID Together to Help Earthquakes Victims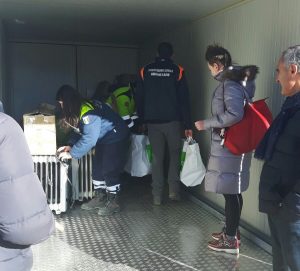 By Daniel Reichel
 
The Union of Italian Jewish Communities (UCEI) and the Israeli NGO IsrAID offered their contribution to the people who remain homeless after the earthquakes in central Italy last summer.
 
Electric blankets, jackets for adults and children and shoes were delivered as a sign of solidarity from Italian Jewry and Israel. Even stoves were included.
 
IsrAID has been involved in the emergency crisis in the area since the very beginning.
 
"After our first mission in September we never lost contact with the local institutions nor with the people we had worked with," Ardita Kongjonaj, head of the IsraAID mission in Amatrice (one of the towns heavily struck by the earthquake), told Pagine Ebraiche.
 
The mission involved a team of rescuers and psychologists from Israel.
"We were pleased to meet the mayor of Amatrice Sergio Pirozzi who thanked us for the material," continued Kongjonaj.
 
During the meeting, the mayor spoke by phone with UCEI's President Noemi Di Segni, who reiterated Italian Jewry's solidarity to the city and to all those affected by the earthquake.
 
"UCEI will pursue its commitment of assistance to earthquake victims with other specific initiatives," explained the UCEI board member Franca Formiggini Anav, who visited the town of Scai (near Amatrice) in September.
 
"While we were visiting some of the affected locations, recalls Odoardo Sadun, who represented the UCEI during the latest visit, "some people came to us because they recognized Ardita and they thanked her for what she did and what the IsraAID team had done for them."
 
The Israeli organization, further explained Kongjonaj, provided both rescue personnel and psychologists for the treatment of post-traumatic stress disorder.
 
"The work of our psychologists has been highly appreciated by the citizens of Amatrice," she said. "Twenty experts arrived in Italy from Israel and people have begun to turn to them in order to talk even more than once a day. They liked our soft approach which enabled important connections to be created."
 
The material (jackets, stoves, blankets, umbrellas and scarves) was provided by IsraAID with UCEI logistical support. It was left inside a container, while the distribution to families was entrusted to Italian civic officers.