NEWS President of Italy Mattarella Honors Holocaust Remembrance Day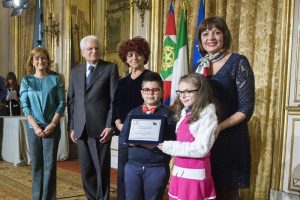 By Adam Smulevich
 
The world needs to keep Remembrance alive and aware. It is useful to understand the past in all its complexity and difficulties. 
This is the message that was voiced at the Quirinale, the official residence of the President of the Italian Republic during the traditional ceremony for International Holocaust Remembrance Day. It was attended by the highest representatives of the country and a great many students.
 
The President of the Republic Sergio Mattarella, the Minister of Education Valeria Fedeli and the President of the Union of Italian Jewish Communities Noemi Di Segni stressed the need of more intense work in the world of education and schools to really understand the lessons of the Shoah. They highlighted how it is crucial to start with the denial of basic rights which was decided under Benito Mussolini as early as 1938, the year in which the Italian dictator promulgated racial laws against Jews.
 
"Honoring the many who were righteous and their heroic actions does not absolve the faults of those who, even in Italy, became accomplices of the persecutors.  For whatever reason: fear, bigotry or interest," President Mattarella said during the ceremony. 
 
This theme will be the focus in the months ahead, which will lead into September 2018, the 80th anniversary of the racial laws. 
 
"You need to study, everyone. You need to study a lot," Shoah survivor Joseph Varon told the students in a short but intense speech.