NEWS President Sergio Mattarella Visits Israel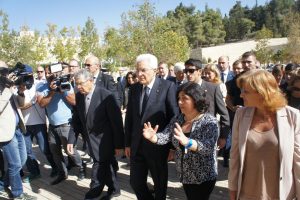 By Daniel Reichel
 
"Nothing can question the strong relationship between Italy and Israel," said the President of Italy, Sergio Mattarella, in Jerusalem, where his four-day visit to Israel started on Sunday. The first place Mattarella visited, accompanied by the President of the Union of Italian Jewish Communities, Noemi Di Segni, was Yad Vashem.
In his four days Mattarella spent two in Jerusalem where he gave a lecture for the opening of the academic year at the Hebrew University. He also paid homage at the grave of Shimon Peres, visited the Italian Jewish Community of Jerusalem and met the Israeli President, Reuven Rivlin. On Tuesday he will meet the Palestinian President Mahmoud Abbas and visit a few places in the West Bank.
 
On Wednesday Mattarella will be at the Eretz Israel Museum in Tel Aviv. There the Minister of Heritage and Cultural Activities and Tourism, Dario Franceschini, will present the great project of the National Museum of Italian Judaism and the Shoah (MEIS), now under construction in Ferrara, to the Israeli public. To explain the importance of the initiative at both a national and international level and strongly supported by the Italian government, alongside Franceschini, there will be Simonetta Della Seta and Dario Disegni, Director and Chairman of the MEIS, and the mayor of Ferrara, Tiziano Tagliani.
 
Mattarella's visit arrives just after the controversial vote on the UNESCO resolution about Jerusalem in which the Italian delegation abstained. After Italian Jewry strongly criticized the decision, Italian Prime Minister Matteo Renzi issued a statement on the issue, calling the Unesco resolution "shocking" and clarifying that Italy will not support such resolutions in the future. 
 
The Foreign deputy minister Mario Giro confirmed, in a long interview to Pagine Ebraiche, that Italy will change its way of voting at Unesco and will fight against the use of this international platform as a tool against Israel.