NEWS Polish Ambassador to Rome Ensures His Country's Efforts against Anti-Semitism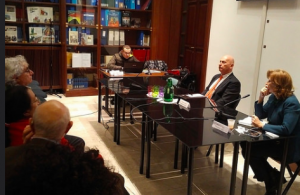 By Adam Smulevich
"I am proud of what we have done in the 27 years that have passed since the collapse of Communism. In particular in the perspective of our relationship with the Jewish community, which has given Poland so many illustrious people of culture, but also in the growing friendship with the state of Israel. Certainly, there is still much to do, but my feeling is that there are several reasons for us being satisfied. We are on the right path, even in fighting anti-Semitism."
These words were pronounced by the Polish ambassador in Italy, Tomasz Orlowski, who last week was invited by the Union of Italian Jewish Communities for a meeting organized by its president Noemi Di Segni. The discussion was focused on the Poland of the past and the Poland of the future.
Asked about Polish responsibilities in the Holocaust, ambassador Orlowski suggested "not criminalizing an entire people, but to judge individuals."
A turning point on the issue of Holocaust Remembrance, he added, was the visit of Pope John Paul II to Auschwitz-Birkenau in 1979.
The ambassador said: "We still do not fully realize it, but the words of a Pope born in Poland, in that place of horror, at that precise moment in history, has had a fundamental impact."
Concerning diplomatic relations with individual states, Orlowski has therefore put the emphasis on the collaboration with Germany ("Today, after so much bad history, we feel we are part of the same destiny.") He added that a stable international environment without a leading role reserved for the United States of America is inconceivable.